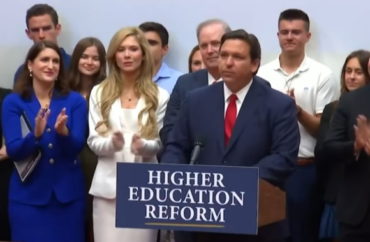 Keeping tenure just got tougher in the Sunshine State.
Republican Gov. Ron DeSantis on Tuesday signed a bill that will allow campus leaders to force professors to undergo post-tenure reviews.
It also will implement an effort to end what the governor called an "accreditation monopoly," as well as require professors to post a host of information about their classes online for transparency.
"We need to make sure the faculty are held accountable and that they don't just have tenure forever without having any type of … ways to hold them accountable or evaluate what they're doing," DeSantis said at a news conference.
"… It's all about trying to make these institutions more in line with what the state's priorities are and, quite frankly, the priorities of the parents throughout the state of Florida."
DeSantis said the law, Senate Bill 7044, will also address the "accreditation monopoly," questioning the role accreditation agencies play in higher education.
"I don't even know where they come from, they are basically self-anointed," he said. "They have an inordinate amount of power to shape what is going on at these universities."
"What the bill does here is require diversity with the accreditation. You can't just keep going to the same accreditor. I think that's something that is going to be very, very significant."
The Tampa Bay Times reports that as it stands, universities' boards of trustees approve faculty tenure decisions and they can still fire professors for cause.
Under the new law, DeSantis said, every five years tenured faculty would be required to go before trustees, which could "part ways" with them.
The legislation states universities' boards may adopt a regulation requiring each tenured state university faculty member to undergo a comprehensive post-tenure review every five years.
The board may include other considerations in the review, but it must address in part: accomplishments and productivity; assigned duties in research, teaching, and service; and performance metrics, evaluations and ratings.
The governor said tenure has morphed over the years to create a situation in higher education that actually stifles intellectual diversity, because the old guard does not want to hire new professors with differing views.
The Times reports the bill also includes a provision that would require syllabi to be posted online, which DeSantis said would prevent attempts by professors to "smuggle in ideology and politics."
The legislation states what must be posted online includes a hyperlink to lists of required and recommended textbooks and instructional materials for at least 95 percent of all courses. Many general education courses must also post syllabi information such as the curriculum, goals, objectives and student expectations, it states.
MORE: Ron DeSantis unmasks Florida schools, threatens administrators' salaries
IMAGE: YouTube screenshot
Like The College Fix on Facebook / Follow us on Twitter