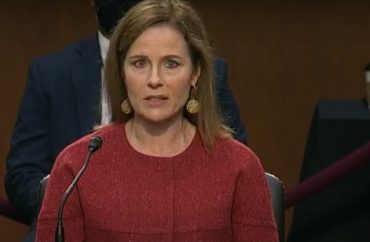 At alumni group at Rhodes College has published an open letter calling for Supreme Court Justice Amy Coney Barrett to be removed from the school's "Hall of Fame."
Rhodes College Alumni for Reproductive Rights in its August 2022 letter argue Coney Barrett broke the college's honor code in her confirmation hearing testimony before the U.S. Senate two years ago.
The letter is publicly signed by three alumni and is also collecting signatures as a petition. It argues Coney Barrett misled senators in 2020 "regarding her position on overruling Supreme Court precedent (including statements she made regarding Roe v. Wade) and about her judicial decision-making process."
"It was, at best, disingenuous of Justice Barrett to admit that she did not believe Roe to be a 'super-precedent' yet then suggest that did not mean the case 'should' be overruled, despite clearly adhering to a legal philosophy that would obviously lead her to rule against Roe," the letter states.
"…We believe it is time to take her at her written, rather than spoken, word. And we believe that Justice Amy Coney Barrett is one of the biggest current threats to our fundamental rights, the stability of our nation, and our democracy. Moreover, as Rhodes alumni who pledged the same fealty to 'truth, loyalty, and service' as she did, we find her actions to be a clear – and perhaps history's most destructive to date – violation of the Honor Code we all hold dear."
The letter is addressed to Rhodes College President Jennifer Collins as well as Richard Adams, director of community standards. Coney Barrett graduated from the school in 1994.
"While a student, Barrett was recognized for her academic accomplishments, including induction into Phi Beta Kappa, Omicron Kappa Delta, Mortar Board, and the Sigma Tau Delta English Honor Society. She also was presented awards for 'Most Outstanding English Major' and 'Most Outstanding Senior Thesis,'" according to the college's website.
In June 2022, photos of Coney Barrett were vandalized at the Memphis-based college after the Dobbs decision.
"Some scribbled in red marker, 'Go f*** yourself,' on the Supreme Court justice's Hall of Fame portrait. Another portrait included profanities as well as artwork depicting her as a devil," KWAM reported.
George Washington University law Professor Jonathan Turley, weighing in on the alumni letter, argued on his personal blog that it "repeats the false claim that Barrett misled the Senate on her views on Roe. To invoke the honor code to make such a false claim truly captures the sense of impunity exhibited by many critics today. The irony is that the opposite is true about Barrett's answers which were more substantive than her predecessors."
"At the time, I wrote that Barrett was refreshingly and surprisingly honest about her judicial philosophy and approach to Roe. She specifically rejected the claim that Roe constitutes 'super precedent.'"
"… The alumni group also accuses Justice Barrett of being 'one of the biggest current threats to our fundamental rights, the stability of our nation, and our democracy.' So the mere fact that Justice Barrett shares a view of constitutional interpretation with millions of other citizens (and many judges and lawyers), she is now a threat to our democracy?"
MORE: Check out The College Fix Campus Cancel Culture Database
IMAGE: YouTube screenshot
Like The College Fix on Facebook / Follow us on Twitter