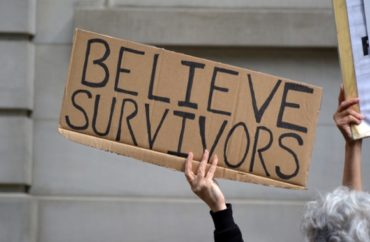 But in wake of uproar, USC had removed professors' ability to send students emails en masse without vetting them first 
A USC professor who came under fire recently for telling students that "accusers sometimes lie" continues to teach at the private institution without interruption despite student protestors recently demanding he be fired for suggesting such a thing.
The school hasn't signaled any disciplinary actions toward him after he recently came under scrutiny for sending out a school-wide email advocating for due process.
"I have not had any direct contact with the USC central administration since the protest on October 1," public policy Professor James Moore told The College Fix via email.
"They have not said anything publicly, and they have not communicated with me privately, so I do not know their thinking on the matter," Moore said. "So far as I know, no steps to terminate my faculty position are contemplated."
He added that the only administrative feedback he has received has been from the dean of the USC Price School, Jack Knott. Knott, in an email to students, called Professor Moore's statement that "accusers sometimes lie" both "insensitive and incendiary" and added that it "showed a lack of sensitivity to the current climate."
The email in which Moore stated "accusers sometimes lie" was a response to another school-wide invitation to a Price Women and Allies event titled "Coffee and Title IX." The invitation urged students to "believe survivors" on the day of Christine Blasey Ford's testimony to the Senate Judiciary Committee.
"With Dr. Christine Blasey Ford's testimony happening today, we are personally inspired to reiterate the importance of educating and empowering women and allies alike, and most of all, to BELIEVE SURVIVORS," the invitation said.
Moore responded to the school-wide invitation by trying to convince students to see the situation from a different perspective.
"If the day comes you are accused of some crime or tort of which you are not guilty, and you find your peers automatically believing your accuser, I expect you find yourself a stronger proponent of due process protections than you are now. Accusers sometimes lie," Moore told students.
This pushed some students to gather Oct. 1 and protest Professor Moore and call for his firing. According to an article in the Daily Trojan, around 30 students gathered for the protest. During the protest, one of the organizers, Audrey Mechling, struck down Moore as a "pitiful excuse of a professor." Another, Joelle Montier, denounced Moore as a "rape enabler."
Additionally, the protestors made their way to Sol Price School of Public Policy's Dean Knott.
After the protestors were stopped by security, Knott came out and spoke, saying of Moore's email, "What [Professor Moore] sent was extremely inappropriate, hurtful, insensitive. We are going to try to do everything we can to try to create a better school, to educate the faculty," according to a video in an article in PJMedia.
Dean Knott thanks students for bringing this issue to the forefront and that he is taking this very seriously. pic.twitter.com/i3BFRoqiHG

— Carlin Pappas (@carlinbaypappas) October 1, 2018
As for Knott's email to students, he wrote that: "The statement made — that accusers lie — in my opinion showed a lack of sensitivity to the current climate, here at the University and in communities across the country."
"As a School of Public Policy, with ethics and civil discourse as cornerstones, we have an obligation to provide a safe space for our community to address issues of sexual abuse in an environment of honest exchange and dialogue, and I am grateful that our students are helping to provide that space," the email stated. "The comments made by Professor Moore may have made such a dialogue more difficult, but the respectful and cogent responses to his comments from our community have underscored to me that the conversation organized by our students is more critical than ever."
In an email to The College Fix, Professor Moore opposed Knott's email, saying that describing his email insensitive, inappropriate and hurtful, among other things, is false. He said Knott paraphrased his words in a way that made his "position appear more extreme."
"My remarks were constructed with the intention to urge students communicating a School-wide call to 'believe survivors' to put themselves in the position of a falsely accused individual, and think about what they hoped due process would deliver for them in that circumstance," Moore said.
The only change that has come from this, Moore told The Fix, is that the faculty no longer has access to student email lists. Moore said it concerns him that the faculty messages will now have to be curated in order to be sent out to the students.
"I do not look forward to the prospect of Dean Knott or his designee deciding which electronic messages I want to deliver to students are acceptable," he said. "He and I must have vastly different standards for what is important, why it is important, and when it is important to communicate about these issues."
MORE: After 'six months of hell,' student accused of rape acquitted by jury
IMAGE: Christopher Penler / Shutterstock
Like The College Fix on Facebook / Follow us on Twitter