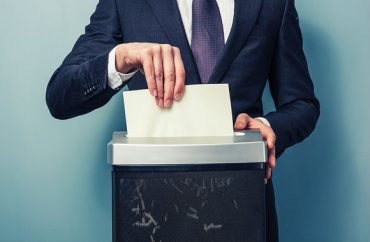 But not when litigation is 'reasonably anticipated'
When is it ethical for a college to destroy documents that could be used against it in due-process litigation arising from sexual-misconduct investigations?
The National Association of College and University Attorneys drew attention recently for a paper that some lawyers have claimed gives advice that is both immoral and ineffective for colleges seeking to avoid liability.
The authors of the May 18 NACUANOTES paper told The College Fix this week that they are only giving practical advice to schools that deal with "thousands" of investigations a year, not telling them to derail "reasonably anticipated" litigation by destroying documents.
But a lawyer for a group that defends student journalists told The Fix that any college that finds itself in court after destroying documents can't count on a sympathetic judge, given the direction of recent caselaw.
Like cops shredding files that show they got the wrong guy
The 18-page paper is titled "Between a Rock and a Hard Place: A Discussion of Issues That Frequently Arise In Sexual Misconduct-Related Litigation Against Colleges and Universities."
Under the heading "Document Preservation and Internal E-mail Policies," the paper advises "general counsel and senior administrators" to decide what they don't want to keep.
"Many emails—as well as staff notes that precede an investigation report, notes of hearing participants during a disciplinary hearing, drafts of hearing outcome reports, and other such working papers—might actually prove very useful to a plaintiff's lawyer [representing an accused student] who may wish to argue that the institution acted in an inconsistent manner or that assertions of institutional witnesses are inconsistent with contemporaneous working drafts," it reads.
"For that reason, it would be prudent to retain a 'master set' of all final reports, proceedings, and outcome documents, and promptly destroy the various preliminary and personal documents," the paper continues. "That way, the institution will have a single, consistent record that is not contradicted or undermined by the institution's own files."
KC Johnson, history professor at Brooklyn College and co-author of a book on the Duke lacrosse rape case, called attention to the months-old document earlier this month on Twitter.
This advice from NACUA publication, for universities re anticipating due process lawsuits, isn't exactly reassuring pic.twitter.com/2yH5yrcZlC

— KC Johnson (@kcjohnson9) August 4, 2016
The approach advised by the NACUANOTES paper "strikes at the fairness of the process," Johnson told The Fix.
"The closest comparison would be if, in the criminal justice process, the police had a policy of routinely shredding portions of their files that might indicate that the wrong person was arrested," he said.
NACUA distanced itself from the advice in the May 18 paper.
Deputy CEO Paul Parsons told The Fix: "NACUANOTES contain the perspectives of individual authors and do not reflect any positions held by the association. NACUA also is not a lobbying organization and thus does not take formal policy positions on any matters."
Keep the 'official record' and ditch your notes
The paper was authored by five lawyers from McGuireWoods LLP: Craig Wood, Josh Whitlock, Melissa Nelson, Tyler Laughinghouse and Jillian Nyhof.
In a statement on behalf of the five, Wood and Whitlock – who together teach higher education law at Washington and Lee University – told The Fix that their advice can't be read without its emphasis on an institution being "required to retain everything because litigation is now reasonably anticipated."
"Our article does not in any way suggest the destruction of any relevant document once litigation is reasonably anticipated and the legal duty to preserve documents has attached," they said.
But deciding exactly when litigation is "reasonably anticipated," and an institution must preserve documents or face legal sanctions, "requires a case-by-case analysis and depends on a variety of factors," they said.
Whitlock and Wood said they don't believe, as some do, that such a legal duty arises every time an institution of higher education investigates an allegation of sexual misconduct.
"There are literally thousands of sexual misconduct investigations and hearings that take place every year at colleges across the country, and fewer than 150 lawsuits have been filed on this topic," they said.
It's impractical to expect schools to keep every document from these thousands of investigations "out of some vague notion that 'we might get sued at some time for something.'"
Wood and Whitlock distinguished between the official record created in an investigation – the charge, the Title IX investigator's report, the student submissions to the Title IX investigator or coordinator, the transcript of the hearing, if any, and similar documents – and the notes of individuals involved in the process.
It is only the individuals' notes that the May 18 paper targets as appropriate for destruction, absent a litigation hold.
"We are advising that before the litigation threat arises there is an opportunity to promote both consistency and practicality in terms of institutional document preservation while also creating and preserving a clean and consistent record," they said. "The institution would be well-advised to avail itself of that opportunity."
'Great plan, until the judge is involved'
According to Adam Goldstein, attorney advocate at the Student Press Law Center, this advice is both morally "wrong" and illogical—and won't work to reduce a college's exposure in sexual misconduct cases.
"To me it feels like the recommendation is rooted in the theory that an institution can't be held accountable for decisions to destroy evidence that are made before the specific plaintiff's case arises," he told The Fix.
"But that's not where the caselaw is, at the moment," he continued: "Courts have found companies to have engaged in spoliation [destruction] of evidence based on retention policies alone."
@kcjohnson9 "Our advice is to make covering up your wrongdoing part of your regular practice." Well, yeah, if you're a criminal, obviously.

— Adam Goldstein (@AdGo) August 5, 2016
Goldstein conceded that the paper is not meant to be a "really nuanced examination of the issue," but rather "a bunch of shorthand suggestions made by attorneys to other attorneys."
"It's not legal advice, it's not something that hopefully anybody would put in the hands of a university administrator and say 'Go to town!'" But the paper still encourages colleges to "write policies into sexual misconduct adjudications that sublimate the civil rights of its participants to the litigation aversion of the institution," he said.
Goldstein compared the advice to a "newsletter for doctors suggesting, 'In many liver surgeries, the gall bladder contains evidence of malpractice, so during liver operations, consider whether your patient really needs a gall bladder.' … If I was a patient, I would be pretty nervous."
But the student-media advocate said the paper's advice would not "even be legal on a purely numerical basis" for many state schools, "because many states have blanket documentation retention schedules," and he's not aware of any schools that have implemented its advice.
History professor Johnson also noted it's "impossible to know" how many schools follow this approach—it would only become public knowledge in a trial when the matter could presumably come out under cross-examination.
Goldstein said the NACUA authors were "remarkably frank" in explaining why they affirm this policy.
"It's bad for their clients to have inconsistent documents regarding a decision, so their solution is to suggest destroying anything inconsistent with the decision," he said. "Great plan, until the judge is involved, at which point it's a really bad plan."
Like The College Fix on Facebook / Follow us on Twitter
IMAGE: Lolostock/Shutterstock, nipon thunggatgaw/Shutterstock