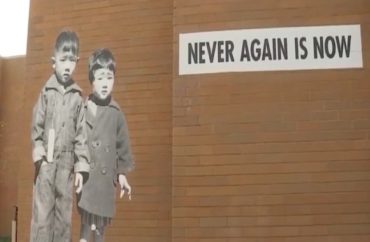 A campus watchdog group has said that public records indicate a college administrator censored an art piece memorializing Japanese-American internment camps to protect the reputation of a donor family.
The Foundation for Individual Rights in Education recently released information garnered through public records requests that suggest it was censored to protect the Freeman family, which donated $14,750 over seven years to the college, $10,000 of which was donated months before the art installation.
The college came under scrutiny in April when the description under the piece "Never Again Is Now" by Seattle artist Erin Shigaki was covered up under the direction of former Vice President of Institutional Advancement Gayle Barge.
The original description read: "After decades of anti-Japanese agitation, led by Eastside businessman Miller Freeman and others, the mass incarceration of Japanese Americans included the 60 families (300 individuals) who farmed Bellevue."
After the censorship, Barge and former President Jerry Weber resigned and the school issued an apology and the wording was restored.
Now, FIRE states it believes that it has more clarity as to why the piece was censored to begin with.
Adam Steinbaugh of FIRE reported that Miller Freeman left behind "not only a disreputable legacy, but a wealthy progeny, including a billionaire grandson, Kemper Freeman, Jr."
Steinbaugh noted that the original apology by the university, which said that the art was approved but not the description, was never sent out:
A proposal was presented to the President's Cabinet for the "Never Again is Now" art installation. That proposal consisted of two sections: the image of the two children and the title. That proposal was approved for installation. The installation on display includes copy that was not proposed to and approved by the President's Cabinet. Providing the full proposal to the President's Cabinet would have enabled all parties to work together on the messaging related to the installation.

The additional section of the installation included information that was of concern from an overall accuracy and liability perspective. Based solely on these concerns, a sentence was removed. […] [T]here is no evidence to support the belief that Freeman benefited from the relocation of Japanese Americans to internment camps during World War II. It was from a prominent white landowner that Freeman bought the 10 acres . . . . This is one of the primary areas of concern with the sentence that was removed along with potential liability for the College."
"But that statement was never sent," Steinbaugh wrote. "Instead, Barge sent a condensed version, stripping the explanation and leaving a 'pure apology.'"
He reported that after the piece was installed Barge wrote to the former president of the university asking about the possibility of removing the name.
Additionally, she sent a message to the president's assistant, writing "I also received some inside information regarding sending a message to the owner of the paper regarding the story. It will not stop the story but will provide a heads up to him. He is a close personal friend of Kemper Freeman Jr."
Steinbaugh showed the dichotomy between a public statement the university gave versus a statement to an unidentified donor:
"As an institution of higher learning, Bellevue College is committed not only to supporting our students, faculty and staff, but also to embracing, facing and exploring every aspect of our shared history."

"As a longtime supporter of Bellevue College we wanted to make you aware that there may be a story in the Seattle Times regarding an incident that included the Kemper Freeman family. Please know that the College endeavored to strike an appropriate balance between our steadfast commitment to support our students, freedom of expression, and references to the Kemper Freeman family."
The College Fix reached out to Steinbaugh, who said Bellevue College "did the right thing" by restoring the artwork and "demonstrating that censorship will have serious consequences, even for its most senior leadership."
"This case illustrates that influential or wealthy community figures can have a distorting effect on an institution's most fundamental commitments to freedom of expression, even where — as here — there's no indication that the donor asked about or was even aware of the exhibit," he told The Fix. "In fact, the exhibit's reference to the donor's ancestor might have gone entirely unnoticed if not for an administrator's rush to prevent embarrassing criticism."
The Fix reached out to Bellevue College, which said "Dr. Barge acted independently and that while we don't know for sure what Dr. Barge's motivation was, based on her responses to the Board and the community, our understanding is that Dr. Barge stated her decision to white out the text on the 'Never Again is Now' art installation was 'poorly thought out' and 'impulsive,' but was not done with discriminatory intent. She indicated she acted based on concerns from an 'overall accuracy and liability perspective.'"
MORE: College administrator reportedly censored campus artwork due to 'liability' issues
Like The College Fix on Facebook / Follow us on Twitter