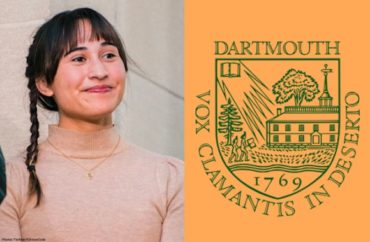 College hosted co-occurring event featuring 'beverages, coloring books, information about campus resources and pastries,' student newspaper reported
Chloe Cole, a formerly trans-identifying young person who now advocates against youth gender transition, recently spoke at Dartmouth College as part of a national tour.
"I speak out because I want to make sure that every child and young adult has the opportunity to hear the truth about transition and to hear from someone like them that there is more than one way to treat it and that there are people who actually care about their health and well-being," Cole, 18, wrote in a recent email to The College Fix.
"I wish I heard my message when I was 12."
Cole spoke last month at a public panel titled "Regrets of Former Trans Kid" sponsored by the Dartmouth College Republicans. College Fix contributor Chloe Ezzo co-hosted the event.
Before the event, some 150 students from the Dartmouth Democrats, the Student Workers Collective, and other campus groups "chanted in support of gender-affirming healthcare for transgender individuals," The Dartmouth student newspaper reported.
"I am no longer surprised about the response I get from protestors," Cole told The Fix in her email.
"I think we all would react similarly if we were told lies from everyone around us and given poisonous doses of hormones by trusted medical professionals," she said.
"I have a deep understanding of the place it comes from, and I have empathy for their position."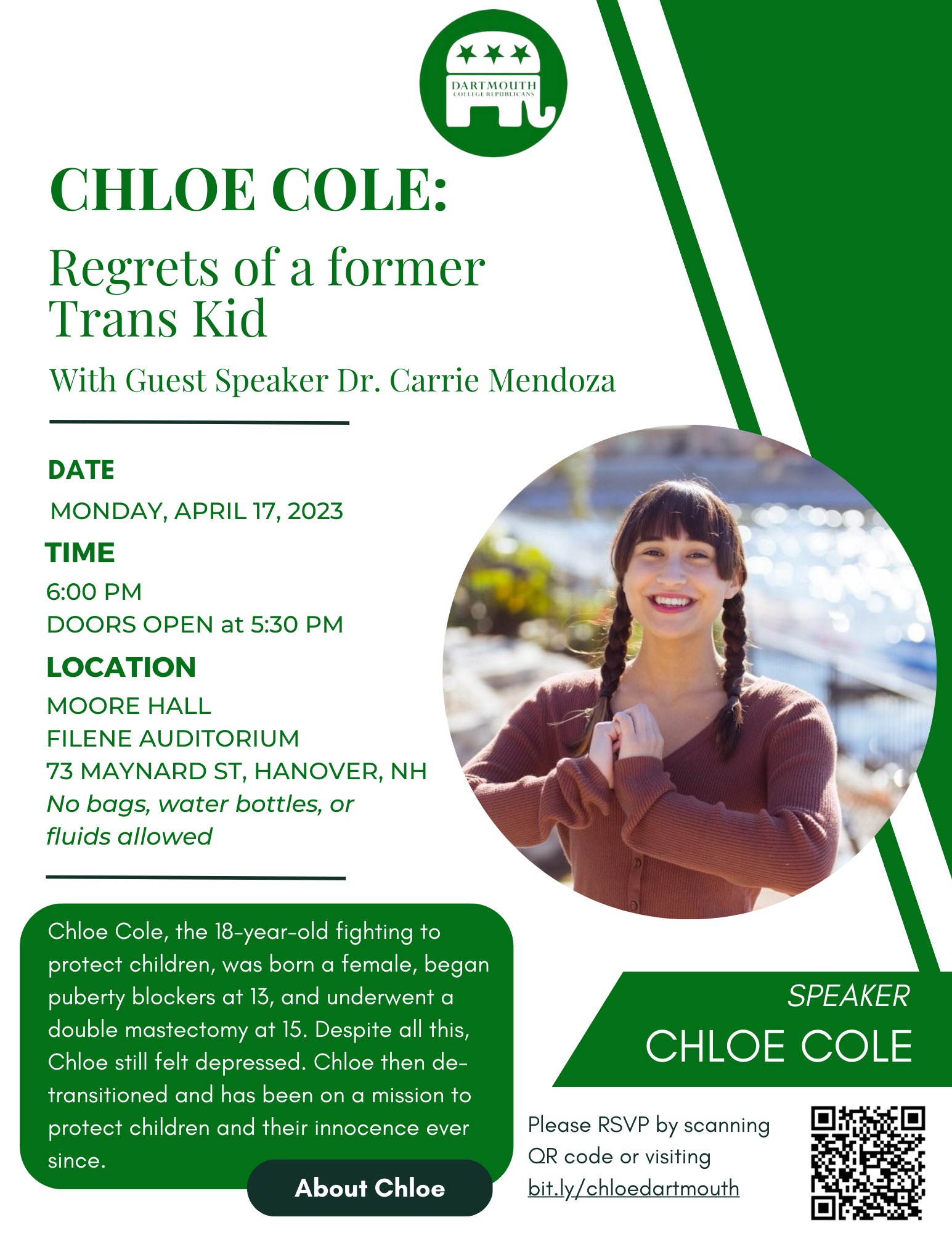 At the Dartmouth event, Cole discussed how, as a 13-year-old girl, she resolved to transition and began puberty blockers and testosterone, according to the student paper. She requested and was given a double mastectomy when she was 15.
At the same time as Cole's event, the Ivy League college's Office of Pluralism and Leadership and LGBTQIA+ Student Advising "hosted a joint 'Drop In Space'… with beverages, coloring books, information about campus resources and pastries," The Dartmouth reported.
"Cole said recovering from her top surgery was difficult, adding that she began to understand the 'reality of the situation' a few months post-operation," the paper reported. "While Cole said she was initially 'happier' after her transition, she said she began to feel 'unhappy' being a boy.'"
"That was when it really started to come crashing down," Cole said, according to the paper. "Now I probably can't have a child, and I'll certainly never have the option to breastfeed."
"I'll never know what that's like. This ripped a hole in my heart, and I couldn't go on any longer like that."
"If you are a fully grown adult and you have undergone physiotherapy and completely understand the consequences, yes, I support you getting that surgery," she continued. "The issue is young kids being fed this information."
Cole testified before state legislatures, appeared in high-profile media and filed a lawsuit against her doctors
"California teenager Chloe Cole has become something of a star in the movement to deny treatments to transgender youth," the Los Angeles Times wrote in March.
"She has given testimony or made public statements in support of anti-treatment bills in Florida, Ohio, Kansas, Missouri, Louisiana, Idaho and North Dakota," the Times reported.
In February, the medical nonprofit Do No Harm appointed Cole as a "patient advocate." Doctor and former medical school administrator Stanley Goldfarb founded Do No Harm to oppose "anti-racist" initiatives and other DEI ideologies in healthcare, especially in medical schools, The College Fix reported last May.
"I've decided to join Do No Harm in hopes of furthering my cause of stopping childhood transition and improving the affirmative-care model," Cole said in a February 24 video message for the organization.
While she initially decided not speak out against sex changes for minors, she "realized that there's many other kids in my situation who are suffering what I did and want to speak up but don't have the voice," Cole said in the video.
The Fox News Channel hosted her in February, and Jordan Peterson interviewed her in January on his podcast hosted by the Daily Wire.
Cole has also spoken about her experience and advocated against youth gender transition on social media.
"It's not possible to artificially block puberty without serious physical, developmental, and social consequences," Cole wrote May 11 on Twitter, where she has 153,000 followers.
It's not possible to artificially block puberty without serious physical, developmental, and social consequences.

— Chloe Cole ⭐️ (@ChoooCole) May 11, 2023
In February of last year, Cole filed a lawsuit against Kaiser Hospitals, Kaiser Permanente Medical Group and specific doctors for "providing a course of experimental transgender medical 'treatment' … caus[ing] substantial injury."
"A team of doctors (i.e., the Defendants)…decided to perform a mutilating, mimicry sex change experiment on Chloe, then a thirteen-year-old vulnerable girl struggling with complex mental health co-morbidities, who needed love, care, attention, and regular weekly psychotherapy, not cross-sex hormones and mutilating surgery," the suit alleges.
MORE: Woke gender theory must not take over med schools
IMAGES: DartmouthCollegeRepublicans/Facebook
Like The College Fix on Facebook / Follow us on Twitter