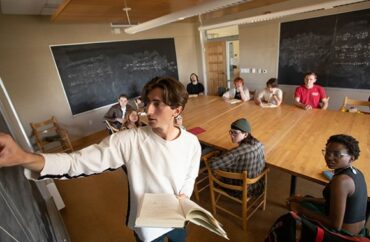 The college will offer application decisions within two weeks
Applicants to a liberal arts college can now participate in discussions and a seminar in lieu of the traditional essay and letters of recommendation.
St. John's College Vice President of Enrollment Benjamin Baum told The College Fix via email the seminars have groups of 10-20 students discuss historical books with one or two full-time faculty members. An  "opening question" gets a conversation going, Baum told The Fix.
The "discussion-based application" is currently offered to early decision or early action applicants for spring or fall 2024. If the discussion-based application proves successful, Baum said the school may consider it for other undergraduate and graduate programs.
The new option is part of a "groundbreaking approach to college admissions" for the Great Books and "classrooms discussions" focused school with campuses in Maryland and New Mexico, according to a university news release. The discussion-based expedites the admissions process, offering decisions within two weeks.
The college will continue to offer the written application as an option, but students can apply based on participation in a seminar, a short application form and two interviews. The two interviews are with an admissions counselor and a professor "in a dialogue that mirrors the college's classroom discussions," the spokesman said.
The Fix asked Baum how confident interviewers can feel evaluating applicants over a short period of time without recommendations.
"Interviews can be a way of gathering more information about a student than essays or recommendations, since we can ask follow-up questions and engage in a genuine back-and-forth with the student," Baum said.
The approach will help "students, especially from rural areas, small towns, and large public school systems, [who] may lack the college preparatory infrastructure or teachers who know them well," Baum added.
Baum said St. John's aims to even the playing field with this new application method.
"I also hope that we're broadening our reach to strong students who haven't had the advantage of private prep support, college counselors, teachers, and parents helping them with application essays," he said.
The discussion-based application also helps the school get to know the applicants being admitted, a newer problem because of the developments in artificial intelligence such as ChatGPT.
The college remains open to the fact some students may do better with a written essay and the discussion version "isn't for everyone."
"The application format is different (not easier), and some students may feel shy about the interview or pride themselves on their writing," the application page states. "You should select the application where you can shine best; we have no preference for students based on the application they choose to use."
"In some cases, the Admissions Committee may decide that it needs more information about the student and will request a short piece of writing or recommendations."
MORE: 'Great Books' college launches 'entirely unscripted,' podcast
IMAGE: Courtesy of St. John's College
Like The College Fix on Facebook / Follow us on Twitter