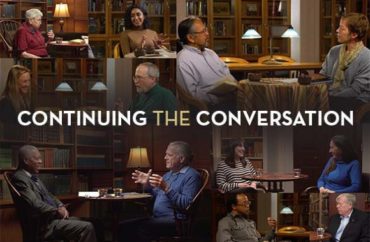 Program features faculty engaged in one-on-one conversations about ideas that inspire them
One of the few remaining liberal arts colleges that follows a classical curriculum is expanding its offerings with a free "Great Books" podcast and videos designed to be approachable to all.
St. John's College, with campuses in Annapolis and Sante Fe, launched in January the series "Continuing the Conversation," which offers a sampling of its intellectual, seminar-style curriculum.
The program "will feature faculty members engaged in one-on-one conversations about the ideas that animate them," and a total of 20 episodes will be released in monthly installments through June, according to a news release.
The college and hosts hope "as many people as possible get a sense of the scope of conversations at St. John's," Zena Hitz, St. John's tutor and "Conversations" host, told The College Fix in an email.
"Now is always the time for open-ended conversation on the deepest questions!" she said.
"Our society does seem less and less capable of having thoughtful conversations, [and] genuine and open-hearted exchanges about important things," Krishnan Venkatesh, another tutor and host, told The Fix.
"It seems like a good time to showcase what this kind of education can do," he said.
A third host and faculty member, Louis Petrich, also shared his hopes for "Continuing the Conversation" with The Fix, which include attracting St. John's prospective students of all ages, as well as inspiring a general audience.
"I hope the conversations will remind our many loyal alumni and show to prospective students (a designation available to all) what good talk is [and] how questions provide true aims," he said.
St. John's College is known for its "Great Books" curriculum. Adopted in 1937, it's focused on original and foundational works and "inspired by some of history's most brilliant philosophers, scientists, [and] musicians," according to the school's website.
A 2018 New York Times op-ed called the school "the most contrarian college in America." It is "a beacon of hope amid the takeover of higher education by leftist ideology and critical theory," The Fix stated that year.
Both Eastern and Western works animate the podcast conversations. In one episode available now, St. John's tutors discuss the theme of "family drama" as it spans across time from the ancient Greek work "Oedipus" by Sophocles to contemporary Japanese films.
No trigger warnings are included.
Another podcast, scheduled to come out in April, will focus on the Civil War and President Lincoln's speeches, including the Gettysburg Address.
Tutor Venkatesh said there has been a lot of excitement around the podcast launch.
"If you watch these interviews and don't feel that inspired to be a part of such a conversation, your mind must be completely dead!" one viewer told him, he said.
The dialogues are "entirely unscripted, genuine, inquisitive, friendly, bold, unafraid," Petrich told The Fix. "They model something that the College, at its best, teaches, and that our nation, not at its best, very much needs if it is to remain open-minded, brave, and free."
"Continuing the Conversation" releases three episodes of the 20-part series each month, with the next scheduled release set for Feb. 15.
The podcast can be accessed on the St. John's College website or through popular sources like Spotify, Amazon and Apple podcasts, where reviewers gave it five stars.
MORE: Saving the humanities: new group provides classical, tuition-free liberal arts education
IMAGE: St. John's College
Like The College Fix on Facebook / Follow us on Twitter