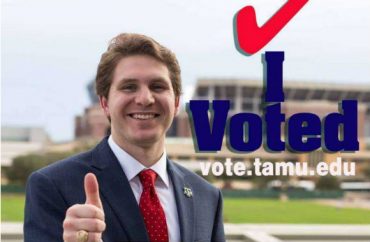 Robert McIntosh was disqualified after he won the Texas A&M University student body presidency; Aggie alum and Energy Secretary Rick Perry thinks it's because McIntosh's opponent is gay and he's not.
Now McIntosh is seeking court permission to test this and other theories.
The student filed a petition in Brazos County district court requesting depositions of a student activities staffer, election commissioner and speaker of the student senate, USA Today College reports.
The petition says McIntosh convincingly beat runner-up Bobby Brooks in the vote totals, but was disqualified "ostensibly for minor alleged violations" of campaign-finance rules (failure to account for "glow sticks" in a campaign video):
Petitioner desires to investigate whether the true reasons for such disqualification and establish that those reasons are based on the fact that he is a heterosexual, white, Christian male.
McIntosh said that Amy Loyd, who advises the student government and election commission, has made statements "that she did not, and does not, want Petitioner to be elected" president. He wants to know about the actions of Rachel Keathley, the election commissioner, and her "motivation and involvement with the disqualification" of him.
Finally, McIntosh claims that Speaker Aaron Mitchell has "first-hand knowledge" of statements by faculty and staff who are "associated" with the student government, that they did not want McIntosh elected, either.
Deposition request by Texas A&M student who won election but was disqualified for "glow stick" use by The College Fix on Scribd
The disqualified student suspects that "an exercise of governmental authority has substantially burdened his free exercise of religion" under Texas and federal religious-freedom laws.
The sought depositions may also show whether McIntosh's right under the state constitution to "due course of the law" was violated, as well as his civil rights.
The deposition burden on the student activities staffer, election commissioner and speaker is "miniscule" compared to the burdens they would face – such as "third-party discovery" or being named individually as defendants – if McIntosh were to file a full lawsuit, says the filing.
The student newspaper The Battalion reports that Keathley, Loyd and Mitchell would not only be deposed under oath, but "their answers could potentially become evidence in any following lawsuits."
Read the USA Today College and Battalion reports.
MORE: Rick Perry says winning candidate disqualified because he's heterosexual
Like The College Fix on Facebook / Follow us on Twitter
IMAGE: Robert McIntosh campaign