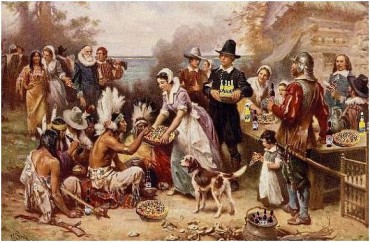 The experts cannot make up their own minds
An instructor at Yale's School of Public Health recently argued that families should cancel their Thanksgiving plans in the face of coronavirus.
"Don't celebrate Thanksgiving in anything resembling the modern American way—with multigenerational gatherings that involve travel and prolonged conversations over an indoor meal," James Hamblin said, repeating the advice of the so-called "experts" on coronavirus. He laid out his arguments in an essay in The Atlantic where the medical doctor works as a staff writer.
Hamblin does not want people to experience the joys of Thanksgiving. He echoes the sharp, parental tone of governors such as New York's Andrew Cuomo and California's Gavin Newsom in telling people to stop trying to make Thanksgiving happen. As an example, the California Department of Public Health said that Thanksgiving gatherings should be limited to no more than three households.
Newsom is under fire for enjoying some French food with friends, including top officials with the California Medical Association.
Gov. @GavinNewsom attended a birthday dinner for one of his political advisers last week with at least a dozen people from several different households, the type of gathering his administration has discouraged during the coronavirus pandemic. https://t.co/rB29C15qys

— Alexei Koseff (@akoseff) November 13, 2020
Governor Cuomo has urged police to enforce his own coronavirus restrictions this Thanksgiving, which include a 10 person limit on gatherings.
For his own part, hero Hamblin takes on the mantle of sacrifice:
Telling people not to gather for a holiday is, of course, an unpopular message.

So I'm doing it.

The truth is that we'll likely need to be more careful with each passing day this winter, not less. The virus knows no difference between holidays and workdays. Our default should be to treat Thanksgiving as a day when the health guidelines are no different from any other day.
It's a message that might be taken better by people if they had not been asked to be more careful and make sacrifices for the past 249 days since the longest "15 days to slow the spread" started. Or if public health "experts" had a consistent message from the beginning. (Fauci originally called the Wuhan virus a "low risk").
Others, "seriously," told people to "STOP BUYING MASKS."
Seriously people- STOP BUYING MASKS!

They are NOT effective in preventing general public from catching #Coronavirus, but if healthcare providers can't get them to care for sick patients, it puts them and our communities at risk!
https://t.co/UxZRwxxKL9

— U.S. Surgeon General (@Surgeon_General) February 29, 2020
But it's not just the public health angle we need to be worried about.
Hamblin explained:
Maybe most important, this year is an opportunity to bond over the moral certainty of the moment. At its core, Thanksgiving is a nebulous day of atoning for the sins of colonialism by eating food and saying thank you. Now families and friends and communities can work together to achieve something meaningful and good: ending the pandemic. All you're asked to do is eat food at home.
Thanks for the feedback, but the last thing I want is an Ivy League professor telling me how to celebrate Thanksgiving or telling me to atone for something done 400 years ago.
My family descended from Governor William Bradford, a Mayflower voyager and an early governor of Plymouth. Like most people outside of the ivory towers, it's more important to celebrate a patriotic holiday than let public health experts and politicians tell us what to do with our own lives.
People can make their own decisions and should figure out safe ways to celebrate Thanksgiving, but not because the elected and unelected elites told them to "cancel Thanksgiving."
MORE: I'd still want to teach inside the classroom despite COVID
IMAGE: Mike Licht/Flickr
Like The College Fix on Facebook / Follow us on Twitter