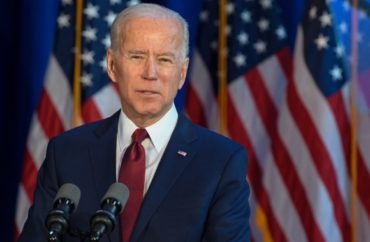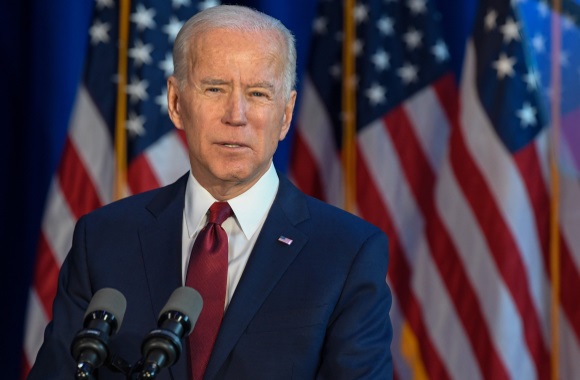 Bailing out borrowers doesn't help people learn about financial responsibility

The principle that someone should first show responsibility with small duties before being given greater ones is Biblical and valuable to the debate about forgiving student loan debts.
President Joe Biden recently said he will freeze payments on federal loans until May 1 but there are some who want a complete bailout.
And it seems there are many people who have not yet learned that lesson about student loan debt.
Take this example from a story The College Fix published on Tuesday. A graduate student with dreams of going to dental school received a $10,000, no-strings-attached grant from Meharry Medical College, where he is currently enrolled in a master's program.
So what does Andreas Nelson plan to do with the money, in anticipation of going on to dental school at Meharry, where student loan debt can average $280,000?
"[School officials] have trust in us to do with this money whatever the cause may be," Nelson said, "whether it be student debt, investing, or just personal enjoyment." Kaiser Health News reported that Nelson's "top concern" is "making rent each month."
Personal enjoyment! Nelson was given $10,000. He will likely accumulate more than $280,000 in student loans after undergraduate and graduate debt is added in to the total. Yet he might use his new grant for a nice trip. Or throw it into some GameStop stock. The possibilities are endless.
Lest I be accused of cherry-picking one example, let's look at the stories that the Student Debt Crisis Center, which advocates for cancellation of loans, features on its website. These are stories that people submit and which SDCC presumably believes bolsters its case for a bailout of borrowers.
One woman, Melissa, does have a story that generates sympathy – taking care of two disabled parents, raising a child on her own and having loans from pursuing a doctorate.
So now, with $104,000 in student debt what does she advise her high school child to do? Attend a trade school or a local community college, or go work for one of the thousands of employers who are desperate for workers?
Nope. "Here I am 20 years later, and I still owe $104,000 and my oldest child is now filling out her FAFSA," she wrote in September 2021. Melissa encourages her daughter to take the family path of taking out student loans, even though she knows how detrimental they can be.
She helped her fill out the application to get student loan debt. Would the government writing a $104,000 check to her and forgiving her loans break the cycle of poor decision making? Absolutely not.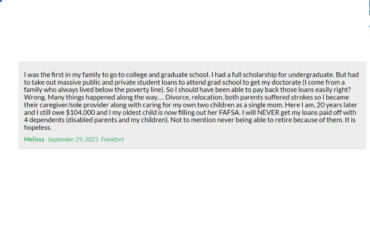 Denise Wickham and her husband, despite presumably being at least in their 40s, were fooled by a college they say, into signing up for $150,000 in student loans for their first child, according to a story on the site.
Three kids later, they still haven't figured out how to help their kids avoid debt and have received "no good advice from any financial counselors at any of the four colleges our sons attended," they said.
How can two married adults raise four kids but lack the capacity to figure out how debt works? Why write them a check?
A woman, now almost 60-years-old, took out student loans to learn Microsoft Excel. Seriously. Would she make good decisions now, if she didn't know at the time that you can take classes on Excel for a few dollars or just watch YouTube videos for free? Why incentivize people like this?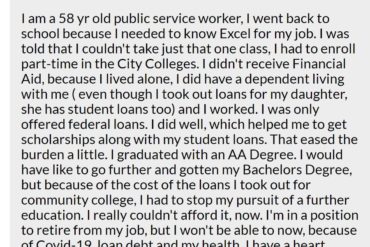 Instead, we should encourage people to work, make better decisions about post-high school plans and help them think through all their options.
Instead of loans, try working
I was fortunate in undergraduate to not have to take out student loans, due to a combination of parental support, scholarships and working over the summer.
I also graduated in two and a half years, saving both money on tuition and adding income earlier than my peers.
I wanted to get a graduate degree in political science, but instead of foregoing income for two more years and taking out tens of thousands in student loan debt, I went online to a public university in Nebraska that had a discounted tuition agreement with Illinois.
I worked throughout the graduate program, taking one or two courses at a time and cash flowing the entire degree. Exercising a bit of financial restraint helped me put away a healthy emergency fund and savings for a down payment on a home.
We didn't put down the bare minimum or buy into a huge house we could only afford if payments were stretched out until we retired.
Unlike those featured in some of the stories from the Student Debt Crisis Center, we practiced prudence with our money. And won't be telling our kids to fill out FAFSA forms.
MORE: Dave Ramsey releases new documentary on student loans
IMAGE: Ron Adar/Shutterstock
Like The College Fix on Facebook / Follow us on Twitter