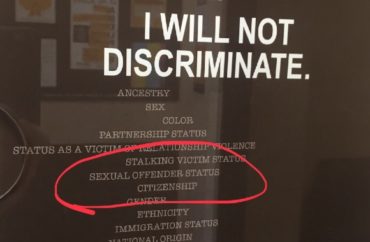 University urges non-discrimination against racial minorities, people with disabilities and sex offenders
A private university in New York told students, faculty and staff to not discriminate against someone based on a history of sexual offenses.
A poster at the university, obtained by The College Fix, has a list of categories and a statement that "I will not discriminate." The poster has the university's name on it.
People should "not discriminate" against someone based on sex, race, disability or religion according to the poster, nor someone's "sexual offender status."
The Fix reached out to the student affairs division, whose name and phone number appears to be on the bottom of the bulletin board, but did not receive a response to a June 1 email.
The Fix emailed the university media relations email but did not receive a response either. Both were asked about who made the poster, what specifically was meant by sex offender status and if there are any sex crimes that would preclude someone from being admitted to Adelphi.
The Fix reached out to other offices at the university about the poster, but none have responded to inquiries sent in the past two weeks. The Office of Community Concerns and Resolutions and the Title IX office were asked if they could clarify what is meant by sex offender status and if they knew who posted the posters.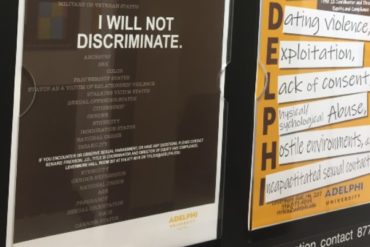 The poster tells people to contact the Title IX office with any questions or concerns.
Traci Levy, the university's director of gender and sexuality studies, did not respond to a request for comment on sex offenders attending the school and how to balance it with student safety.
The poster comes after a recent sexual harassment allegation which involved a male student filming a female student while she was in a dorm bathroom and a previous incident of sexual assault in December.
The sexual assault incident left students on the New York university's campus "disturbed" according to a story by News 12.
The university has embraced liberal sexual political views in the past.
Adelphi's diversity office canceled a gay pornographic movie screening in 2019 after an article from The Fix.
The university cited "end-of-year scheduling conflicts" as the reason behind the cancelation of the screening of a documentary called "Gay Sex in the 70s."
A movie review stated that the documentary was "little more than a series of interviews…interspersed with titillating soft-core clips from the [1970s'] porn archives."
MORE: UCLA sex criminal back on streets due to prison overcrowding
IMAGES: The College Fix
Like The College Fix on Facebook / Follow us on Twitter