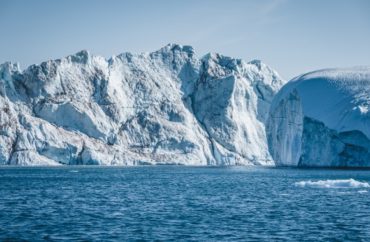 The Antarctic "Doomsday Glacier" is not in as much danger of collapse as climate scientists originally believed.
The Thwaites Glacier, an ice shelf in Western Antarctica the size of Florida, may thin out gradually as it melts, rather than fracturing and causing a catastrophic chain reaction, according to a study led by University of Michigan scientists.
"Our study shows that the scenario of really catastrophic ice sheet disintegration–icebergs toppling off the ice sheet like dominos–is less likely to be sustained. At least in the short term," Michigan climate professor Jeremy Bassis, who led the study, told The College Fix in an email.
Scientists have studied Thwaites's melting process for decades, sometimes giving pessimistic predictions for its future. In April, an international team of scientists published a study that suggested the glacier was close to losing its anchor points to the rest of the continent. It's been dubbed the "Doomsday Glacier" in news reports.
Bassis and his team found, however, that even "if vulnerable locations like Thwaites Glacier start to collapse, small resistive forces from sea-ice and calved debris can slow down or arrest retreat, reducing the potential for sustained ice sheet collapse."
"But the less catastrophic scenario could still involve a larger rate of sea level rise than what most models predict," Bassis qualified in his email to The Fix.
The central concern with predictions of glacial demise is that it can lead to a rise in sea levels, potentially causing coastlines to recede.
"When talking about sea level rise, we have high confidence that sea level is going to continue to rise. The question that we are facing is whether our models of future sea level rise 50-100 years (or more) into the future significantly underestimate sea level rise," Bassis told The College Fix.
Many cities, especially those on the coasts, are preparing for increased flooding due to sea level rise, largely caused by the melting of glaciers. While many officials anticipate that they will see more flooding, they are unsure when and how rapidly it will come.
"Coming sea level rise is a bit like waiting to get hit by a truck," Bassis said in his email. "We might not know if it is traveling 10 mph or 50 mph, but we know it is coming and we should do something about it because getting hit, no matter the speed, is going to hurt."
The climate debate is rife with predictions as to when changes in temperature will become dire, with some predictions more accurate than others.
In 2009, former Vice President Al Gore predicted that the North Pole would lose most or all of its glacial ice by 2013, a claim that did not come true.
Cities on the coasts will see an increase in flooding by the 2030s due to a pattern in the moon's orbit that will cause higher tides, according to a July 7 study from NASA.
Bassis and his team published the study as part of an international collaboration funded by the National Science Foundation as well as the Natural Environment Research Council.
MORE: Economics prof says cannibalism might help fight climate change
IMAGE: Shutterstock
Like The College Fix on Facebook / Follow us on Twitter