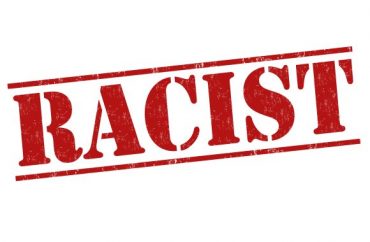 In a Tuesday New York Times op-ed, Drake University's Jennifer Harvey argues white parents who teach their children that all people are equal and "the same underneath our skin" are utilizing "ineffective" strategies for combating racism.
A statement like "we're all equal," Harvey says, "actually blocks white children from recognizing or taking seriously racism when they see it or hear about it."
To give you an idea where Harvey, a religion professor, is coming from, she links to several (allegedly) white-perpetrated hate crimes, and associates them with the rise of now-President Donald Trump.
She is "dismayed" that her daughter's school's "peace- and diversity-centered curriculum" presents a "one-dimensional view of history"; when daughter asks mom what sort of misdeeds American political leaders have committed (in response to Harvey noting "our country's leaders have done bad things"), mom brings up as an example … America's first president:
"Well […] you know how you've been running around here celebrating George Washington? We always talk about George Washington fighting for freedom. But George Washington also owned black people as slaves."
At worst, the consequences are akin to what happens when you breathe in polluted air. Not realizing the pollution is there doesn't mean it doesn't affect you. White children are exposed to racism daily. If we parents don't point it out, show how it works and teach why it is false, over time our children are more likely to accept racist messages at face value. When they see racial inequality — when the only doctors or teachers they see are white, or fewer kids in accelerated classes are black, for example — they won't blame racism. Instead, they'll blame people of color for somehow falling short. …

[…] I've tried to go beyond the abstract "be kind to everyone" to encourage my children to recognize racial meanness and understand that white kids have a particular responsibility to challenge racism. These are necessary skills when the racism emboldened by this administration shows up in the world.

One-dimensional, generic teachings are tempting. They feel easier and safer. That's the only reason my daughter's school would settle for partial truths about George Washington. But raising children who are resilient for justice and able to do their part to create an inclusive society takes more, especially now. And it's not as hard as it might seem.
When Harvey's daughter asks why, if he owned slaves, Americans still revere Washington, the prof replies "good question."
"Sometimes it's hard to admit our white predecessors did bad things because it makes us feel bad," she says.
Is that really the default Caucasian position? Is it not reasonable to acknowledge past sins … but also recognize it's not really fair to judge 18th century men by 21st century standards?
MORE: University writing center combats 'racist … unjust language structures'
MORE: Oklahoma HS teacher's classroom lesson: 'To be white is to be racist'
Like The College Fix on Facebook / Follow us on Twitter
IMAGE: Shutterstock