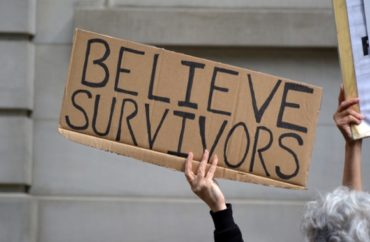 Personalizes victims of campus kangaroo courts
Plaintiffs in due-process lawsuits against colleges for biased Title IX proceedings are rarely named. They tend to proceed under a pseudonym such as John Doe.
As a result, it has been challenging for advocates of due process to personalize the issue for the nation's students, parents and lawmakers, who have the power to impose statewide rules on disciplinary adjudications.
Now one due-process group is seeking to personalize the issue of kangaroo courts that railroad students accused of sexual misconduct.
Stop Abusive and Violent Environments published a Change.org petition to convince U.S. Attorney General William Barr to revoke Justice Department funding to "Start by Believing" programs, which have thus far received nearly $9 million in federal grants.
Just last fall, DOJ's Office of Violence Against Women awarded a $400,000 grant to such programs. Start by Believing Day is next month.
Fake investigation determined to reach preordained result
SAVE's petition highlights the case of Matt Rolph, who was cleared of sex crimes by a jury in 2014 but ruled a rapist by Hobart College months earlier. He appears to be the accused student mentioned by journalist Emily Yoffe in discussing the problems with Title IX trials, including the sharing of evidence between colleges and prosecutors.
Rolph wasn't even allowed to attend the graduation of his sister from its sibling college, William Smith. (The male- and female-only institutions are generally referred to together as Hobart and William Smith.)
An investigation by local news station WHAM noted that Hobart expelled Rolph the day after his hearing, a month before his indictment. His father was prevented from attending the hearing because he's a lawyer.
Rolph's lawyer, a former sex crimes prosecutor, said she never would have brought the case because the accuser, whose identity remains hidden, admitted inviting Rolph over and drinking and using drugs:
A rape kit was never administered and no forensic evidence was presented. During cross-examination her story was scrutinized by Rolph's lawyer.

"She said, 168 times, I don't remember, I don't recall, and I don't know," Kristina Karle, Rolph's lawyer said. "It is an investigator's job, it is a prosecutor's job to ask those tough questions…in this case I don't believe those questions were ever asked, not until I did."
The college "decided to make an example of him" by conducting a fake investigation, SAVE writes in the Change.org petition. It didn't record interviews, review "innocence-proving text messages" sent by his accuser, obtain records supporting the accuser's "claim of medical problems caused by the incident," or "resolve inconsistencies among witness statements."
Unethical journalism by New York Times could have poisoned the jury
The college adjudicated Rolph months before The New York Times ran a "front page" profile of Hobart and William Smith for not punishing a different student accused of similar conduct. The story by reporter Walt Bogdanich never mentioned Rolph's proceeding and its result of expulsion.
The district attorney who refused to prosecute the case blasted the Times for unethical journalism, saying it left out "essentially all of the evidence that would indicate this was a consensual act."
Rolph had already been indicted when the Times profile ran:
"How was I ever going to get a fair trial?" Matt Rolph recalled of his feelings at the time. "I was afraid that people would just associate me with this, that they would see guilty before learning any of the facts."

"We were gravely concerned that Matt wasn't going to get a fair trial because people are going to think that Hobart is Rape University," added Peter Rolph.
The jury exonerated him in less than a day, and a court let his Title IX claims go forward against the college in 2017. But Rolph is "just one of the many thousands of Americans who have been victimized by "victim-centered' investigations," SAVE writes:
"Start By Believing" tells investigators to investigate cases from an "initial presumption" of guilt, to slant their report to "corroborate the victim's account," and to even make sure the sexual encounter does "not look like a consensual sexual experience."
A longer web resource on Start by Believing explains how the techniques used in biased investigations are contrary to "long-established investigative ethical codes," ignore the well-documented bias against men in the criminal justice system, and amount to "near-religious teaching," in the words of a Harvard law professor.
Read the petition, SAVE page on Start by Believing and WHAM report.
MORE: 'Start by believing' backfired on rape victims in the U.K. 
IMAGE: Christopher Penler/Shutterstock
Like The College Fix on Facebook / Follow us on Twitter