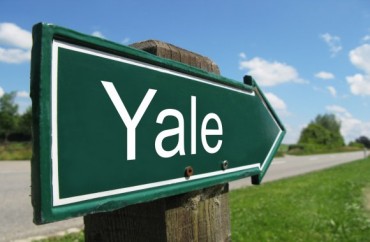 Earlier this month, the head of Yale's Pierson College asked that students not refer to him as "master" due to the "racially charged" nature of the term.
The school will be debating and discussing other appellations this year, most especially that after which another college is named — Calhoun.
John C. Calhoun, the seventh vice president of the United States and a member of the Yale's Class of 1804, was "a fervent advocate of slavery."
Because a building at the school is (still) named in his honor,  a petition was started which says "Like the official display of the Confederate flag in South Carolina, Calhoun College represents an indifference to centuries of pain and suffering among the black population."
Further, "[i]t conveys disrespect toward black perspectives, and serves a barrier toward racial inclusiveness. Calhoun College will always preclude minority students from feeling truly at home at Yale."
To date, nearly 1,500 people have signed on [the petition] in support.

Student interest in the issue has been prolific, but opinions have differed over whether Calhoun's name should be erased completely, modified or left alone as a reminder of the painful legacy of slavery in this country.

Esther Portyansky '16 said she has heard many students describe their "discomfort, anger and resentment" at walking through the halls of Calhoun College. She said she recognizes that various historical figures, including other individuals who have eponymous residential colleges, supported slavery, but asserted that Calhoun was unique in his fervor for defending the institution.

"Whether John C. Calhoun's values strike at us personally or not, having a residential college named in his honor is undeniably a sign that we do not find his values problematic," she said. "The fact is, Yale did not find his values to be problematic in 1931, when the college was named. But today is not 1931."
RELATED: The name change craze continues: Add Woodrow Wilson to the list
Jasmine Benjamin '17, an African-American student in Calhoun, said that as a history major, she sympathizes with the argument of leaving Calhoun's name on the college in order to "preserve historical memory." However, she said having a residential college named after Calhoun has not influenced students to talk constructively about the past.

"I'm all for being able to discuss uncomfortable things about the past," Benjamin said. "But I don't think having a college named after Calhoun is doing that. If anything, it's making people treat the past comfortably. We've detached Calhoun's name from everything that he stood for, so it loses significance."
The Yale Corporation has the final word on changing any college's name. It currently has to decide on names for two new residential colleges.
The university plans formal and informal debates and discussions on "racially charged symbols on campus," including the term "master" which was brought to light by the aforementioned head of Pierson College, Professor Stephen Davis.
RELATED: Some at Amherst College demand 'racist' Lord Jeff mascot be changed – to a moose
Like The College Fix on Facebook / Follow us on Twitter
IMAGE: Shutterstock