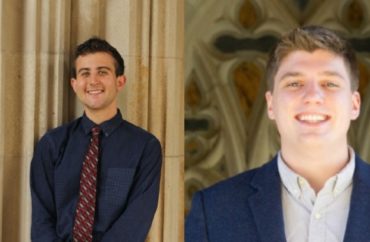 Two Duke alumni created a "Space Medicine" course that continues to be popular with the university community and the general public.
The latest iteration started on January 25 and includes topics such as "Martian Medicine" and the "History of Medicine and Aviation." Over 1,600 students have already enrolled.
Dominic Tanzillo and Nicholas Saba (pictured) first created the class as a six-week "house course" offered in fall 2020 and the last spring semester. The class focuses on hypothethical challenges facing space explorers.
"So what happens when an astronaut becomes acutely ill halfway to Mars with no way of turning around?" the student-led course description asks. "Ethics become quite difficult in space and writing laws before events occur becomes very important. Better yet, how can engineering solutions solve health problems before they occur?"
They also ran the course last summer on Coursera, and The Chronicle reported that they had at least 150 signed up for it. "Over the course of several months, Tanzillo interviewed NASA engineers, astronauts and doctors, as well as Duke doctors and nurses to better understand what content to include," the student paper reported.
Students would sign in from all over the world for the class. "One graduate student from East India would wake up at 6 a.m. each day to join the live sessions," Saba told the paper for a January 11 article. "Another student from the [United Kingdom] would stay up late with a friend to watch and discuss the lectures."
Tanzillo and Saba not respond to a January 19 media inquiry from The College Fix that asked about their original interest in the topic.
The Fix also asked what the difficulties were in making the class and if they have received any feedback. Tanzillo interned at NASA in summer 2020, before the course began. He currently works as a software developer for a medical company.
Saba currently works as a biomedical informatics analyst for Cincinnati Children's Hospital.
The course material takes 10-15 hours and includes an introduction to the different topics related to medicine in space.
The syllabus for the course says the students will learn about the difficulty of leaving the Earth's gravity and atmosphere, how to reduce the chances of extreme catastrophes and crashes and how to sustain human life on a foreign planet.
Students will learn "the ways in which Oxygen, pressure, acceleration and other sustained threats impact the human body in extreme environments," "[e]xplore mechanical, biomedical, and electrical engineering problems involved in space travel and potential solutions" and "[e]xamine the mechanisms that allow certain organisms to overcome impossible odds to survive in a difficult environment."
MORE: Instructor says space is a fictitious creation by white people
IMAGE: Linkedin
Like The College Fix on Facebook / Follow us on Twitter