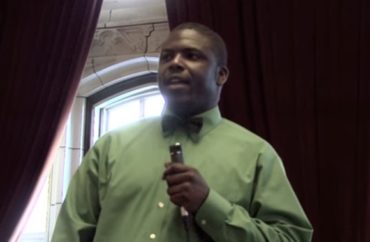 Brad Pitt is making a movie about him
Space is a fiction invented by white people, who should be removed from earth. Black people should be removed from the earth – to prevent white people from colonizing other worlds.
Is this simply a freewheeling debate led by an eccentric two-time national champion-turned-instructor, or a fireable offense?
A student at Weber State University is demanding the firing of Ryan Wash, whose life story will be told in a Brad Pitt-financed biopic, calling him a "racist professor" who was teaching an "anti-white curriculum" to his students.
Freshman Michael Moreno secretly recorded Wash and other students during a session that a university spokesperson told The College Fix was "an optional, pre-season retreat" for "students interested in participating in policy debate."
He posted audio of the session interspersed with his own commentary on YouTube. It depicts Wash cursing at Moreno, telling Moreno that he can't attend debate tournaments unless he parrots Wash's arguments, and suggesting that black astronauts colluded with whites to invent space.
Facing skepticism online that Wash actually believed in what he was arguing, Moreno posted a video two days later that showed clips of Wash's previous debate performances.
He insists that Wash, the director of debate at Weber State, was not leading students in far-out debate for the sake of learning, and that the instructor had violated university policy in multiple ways.
The administration has released three statements so far in response to Moreno's evidence, each emphasizing that it will not jump to conclusions before finishing an investigation.
In a campuswide email Friday, the university said it has received demands from all sides asking why either Moreno or Wash hasn't been punished yet.
"As an institution of higher education, we owe it to all members of campus to take a deliberate approach to issues like this and do our best to learn all the details involved," it reads.
But the administration also portrayed the session led by Wash as an "exercise" where the instructor and students "explored and critiqued strategies for debating controversial issues."
Moreno released another video on Saturday, saying he is disappointed in WSU's response and believes Wash should be fired for violation of the academic freedom policy and failure to teach his students properly.
"They continue to suggest that this was all just part of 'teaching debate,' even when I've shown more than enough evidence that that is not what happened," he says.
Moreno (below) did not provide The Fix new information and stopped responding to queries. Wash did not respond to emails or calls from The Fix asking what he thought about Moreno's videos.
MORE: Harvard duo win international debate for praising Marxist revolution
Debating women is 'a form of linguistic assault' on them?
Wash isn't the only person in the dispute to have earned a national reputation already.
Less than a year ago, a debate judge prematurely ended a high school debate involving Moreno because he and his partner cited the work of "white supremacists" – conservative pundit Ben Shapiro and Canadian psychologist Jordan Peterson.
When he called out Wash last month, Moreno faced pushback online for allegedly misunderstanding the instructor's style and the format of this particular policy debate session.
A Reddit user identified as Crystal claimed she has been "involved with Weber State debate for 7 years" and that policy debates like the one Wash led are "utterly absurd" by nature. They are not supposed to make sense, the user wrote.
"Even if [Wash] didn't actually believe in these positions, the way he presents them does not in any way indicate that he believes these arguments are absurd or that he is playing the devil's advocate," Moreno responded to the user.
In his first post to YouTube Oct. 26, Moreno prefaces the audio-only excerpts with an explanation that "the debate topic this year for college is whether or not the United States should work together with China or Russia on going to space."
Instead, Wash and Moreno's classmates ignored that topic and started arguing that "space doesn't exist" and is "made up by white people." Their argument is that "we should get rid of all white people because they're inherently racist, colonialistic and capitalistic," Moreno says.
When Moreno tells Wash that the existence of black astronauts in space rebuts his argument, Wash says those astronauts are lying and "just 'cause they're black doesn't mean that they don't participate in whiteness."
MORE: College debate tournament bans men so they don't rape women
Later in the audio excerpts, the students start discussing sending white people off of the planet. "And whites: Don't worry about your return flight, because we book you a one-way ticket," one student says.
Another student countered with the possibility that "white people find a planet with life on it" and wondered "are they just gonna colonize it? Should we subject other people to that colonization?"
Wash responded that "the biggest" issue with this argument was "questions of practicality, like,  how are we getting white people to space?"
When Moreno questioned Wash on his argument that deep space exploration wasn't about outer space, the instructor told the student that if Moreno questioned a woman like this it could be considered "linguistic assault:"
So you being like if they're women debaters and they're like "this is what space means" and you're like "no actually space means this way" – this is like a form of linguistic violence. I'm not going to go so far as to say the "R" word in there [implying "rape"], but it's a form of linguistic assault.
Near the end of the audio excerpts, Moreno disagrees with Wash on how to argue one of the debate topics and Wash starts swearing at him.
"If you read the evidence and not your powered ass tags that's what it says," the instructor says. "That everybody on Earth gonna fucking die from extinction not that we need to diversify ourselves."
Wash 'clearly subscribes to these types of arguments'
Moreno followed up with a video Oct. 28 that shows clips of Wash from previous debates. Described as "More Evidence and addressing concerns," the student argues that Wash was not simply "playing devil's advocate" or presenting "these absurd positions to teach us how to debate."
At the National Debate Tournament in 2013, which he won, Wash talked about his race, sexuality and religion: "All of the time I've been in debate I've never fucking had a partner where I can just talk about being me. Being black, queer, Christian and all of that shit situates me outside of this space. Today is the day we unite."
In another, he says: "If anything, I won top speaker because I don't speak bullshit. I tell you the fucking truth."
In Wash's interview with the public radio program Radiolab, the host mentioned pairing Wash with another queer black debater: "If they're gonna try to make an argument about feeling excluded and invisible in the debate world, well, they can own that argument better than almost anyone."
Moreno says Wash "clearly subscribes to these types of arguments," and although the instructor might not believe that space isn't real, his style of pedagogy is concerning. He's teaching students that people are oppressed and ignoring any form of criticism from Moreno.
MORE: Harvard students create paid, anonymous debate platform
'The university is currently in the process of reviewing this matter'
Weber State's first two statements suggest that it viewed Moreno's recording as simply a normal debate prep session.
It told media Oct. 28 that the administration was aware of the YouTube post and going to look into the situation "to make sure all perspectives are equally and fairly represented."
"Weber State University supports academic freedom and has policies in place to protect both faculty and students from harassment and discrimination as they engage in these conversations," the statement read.
President Brad Mortensen told students, faculty and staff Nov. 1 that Moreno's video had been shared widely on social media, and that some people on campus said they had "received emails and voicemail messages that have been construed as discriminatory, harassing or threatening."
Mortensen disappointed those who had called for punishing either Moreno or Wash. "Ultimately, if disciplinary action is taken, it is the university's long-standing policy that it does not publicly share or discuss personnel or student conduct violations," the president wrote.
In its most recent statement Saturday – possibly after Moreno posted his response that reviewed WSU's policies – the university changed its wording. It didn't describe the debate session captured by Moreno as typical, or even mention it.
"The university is currently in the process of reviewing this matter," it begins, and it must examine the "fundamental values" of academic freedom, freedom of expression and its "dedication to creating a welcoming and inclusive environment."
It must "learn all the details involved. No one benefits from a hastily reached conclusion."
We demand that Michael Moreno be expelled from Weber State for breaking student code of conduct and propagating white supremacy.

We demand the videos be taken down for privacy violation and hate speech.

We demand university support for Ryan Wash and the debaters in the video.

— Never Neutral Union (@NeverNeutralU) October 31, 2019
Faculty should avoid 'controversial matter which has no relation to their subject'
Moreno's Saturday video notes that a Twitter account (above) allegedly created by his fellow students is calling for his expulsion for "propagating white supremacy." He said most of the people who follow and "take the page seriously" are from the debate community at large.
Moreno has "shown more than enough evidence" that Wash was not just teaching debate, and that the instructor's academic freedom is not at issue.
University policy explicitly conditions the freedom of faculty "in discussing their subjects" to sticking to relevant subject matter. "[T]hey should be careful not to introduce in their teaching controversial matter which has no relation to their subject."
Here, Moreno argues that Wash brought up matters that had nothing to do with debate and, if they did, students weren't allowed to challenge the instructor's stances.
The academic freedom policy also binds faculty to "exercise appropriate restraint," which Wash did not by swearing at Moreno, the student says. The instructor didn't "show respect for the opinions of others" as required, and Wash acted as an "institutional spokesperson" in violation of WSU policy, Moreno claims, by preventing debate students from attending tournaments unless they use arguments he has approved.
"This is not a question of academic freedom or freedom of speech. It's a question of if this professor is meeting his obligations and duties as someone who is paid by the university to teach students debate, and the answer is clear. He's not," Moreno concludes.
The experience has convinced Moreno to strike out on his own. In a YouTube interview with Benjamin Boyce, an Evergreen State College alum who made his name criticizing the school, Moreno said he is "planning on starting my own debate organization very soon."
MORE: Student suspended for debating Muslim extremism … in debate club
IMAGE: Austin Honaker/YouTube
Like The College Fix on Facebook / Follow us on Twitter