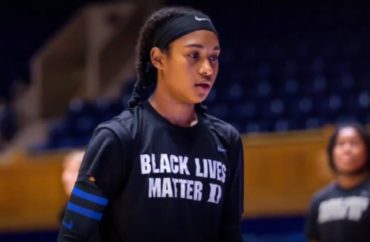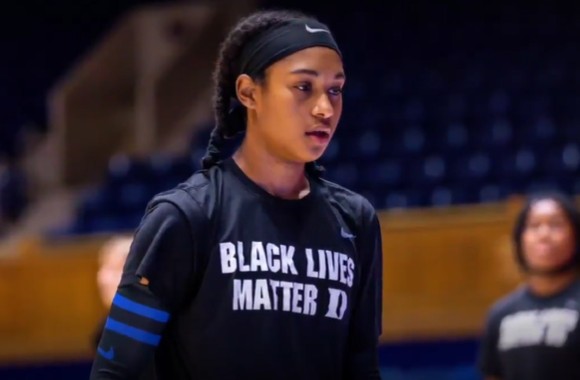 UPDATED
A source from the Brigham Young University athletic department reportedly questioned the narrative
Duke volleyball player Rachel Richardson's claims that she was the target of repeated racial slurs has been further called into question after the Brigham Young University student newspaper did some further digging.
Richardson claimed that someone from the BYU fan section on Friday repeatedly used the "N-word." Her godmother, Lesa Pamplin, claimed that someone yelled the word every single time the black volleyball player went to serve – it's not clear if she was at the game herself, though the campus newspaper reported she was not. Volleyball teams switch sides after each set but Pamplin did not respond to a College Fix inquiry on Monday that asked for clarification on if there was one person that followed Richardson from side to side or possibly multiple people.
Marvin Richardson, the father of the Duke player, said it was multiple people using the slurs, though BYU officials only identified one person for an indefinite ban.
But sources who spoke to the Mormon university's student newspaper questioned the narrative. Their statements fit with new information from the police and associate athletic director. The Salt Lake Tribune reported that "campus police say it doesn't appear the man who was eventually banned was the person shouting the N-word."
"BYU Police Lt. George Besendorfer said Tuesday that based on an initial review of surveillance footage of the crowd, the individual who was banned wasn't shouting anything while the Duke player was serving," the Tribune reported.
"Ms. Richardson complained of hearing a racial slur during the second set but did not point anyone out," an unnamed athletic department source told the campus Cougar Chronicle. "Officials discussed briefly and stationed policemen there… there were no more complaints until after the match."
Jon McBride, associate athletic director for BYU, said he has yet to see video of the person the university banned yelling the slur. "The person who was banned was the person identified by Duke as using racial slurs. However, we have been unable to find any evidence of that person using slurs in the match," the Utah paper reported.
"Both the officials and BYU coaching staff were made aware of the incident during the game, but failed to take the necessary steps to stop the unacceptable behavior and create a safe environment," Richardson claimed. She originally tweeted that "my fellow African American teammates and I were targeted and racially heckled throughout the entirety of the match."
In a subsequent video she altered her comments to specifically say that she only heard the slurs in the second set.
Rachel Richardson of @dukeVB shares what happened at BYU this weekend and how she is moving forward with love and compassion while advocating for change. @rachrich03 pic.twitter.com/Lw3tWQ7yrt

— Holly Rowe (@sportsiren) August 30, 2022
The paper spoke to several students with firsthand or secondhand experiences:
The Cougar Chronicle has been unable to find a source in the student section that can corroborate Richardson's claim of racial slurs being yelled at her. Vera Smith, a BYU student in the student section during the game, said she "heard absolutely nothing" that could be taken as a racial slur. Jacob Hanson, also a BYU student, shared texts with the Cougar Chronicle from two friends in two different parts of the student section that also heard nothing. They said they were not aware there had been a problem until after the game. Maddy Johnson, another BYU student who was in the ROC student section, said she did not hear any racial slur said and when she saw the individual escorted out of the arena he was in a different section.
The athletic department source said that a "mentally challenged fan approached a Duke player" after the game and the Duke players "suddenly recognized the handicapped man's 'voice' as the same one shouting slurs. They never saw or pointed out a face, just a voice. They banned this man. Not for slurs, but for interfering with visiting guests."
The athletic department source explained further:
Her story doesn't add up, BYU banned an innocent man to appease the mob and make their PR mess go away. While I don't know if Ms. Richardson genuinely misheard something or intentionally made up this story, it certainly does not constitute the criticism BYU has gotten. There is zero evidence of a slur being said. Not a single witness, besides Ms. Richardson, has come forth. Not a single cell phone video or BYUtv's several camera angles caught a single thing. How unlikely when this person supposedly said a slur during 'every single serve.'
BYU has two players, Morgan Clinger and Kate Grimmer, whose names could sound like the "N-word," particularly if said by someone with a speech impediment or heard through a noisy arena.
Pamplin, the godmother of Richardson, has a history of posting anti-white comments on social media, as reported by the Cougar Chronicle. "If you're White you totally wouldn't understand," Pamplin has tweeted. "Why does @CNN consistently interview these dumb a** white women," and "being married to a white woman he thinks he can talk this stupid a** nonsense. Clarence 2.0," Pamplin wrote.
Her Twitter has since been made private but the campus newspaper posted screenshots of the tweets.
Editor's note: The article has been updated with further information from The Salt Lake Tribune.
MORE: Hate crime hoaxes of 2021
IMAGE: Holly Rowe/Twitter
Like The College Fix on Facebook / Follow us on Twitter