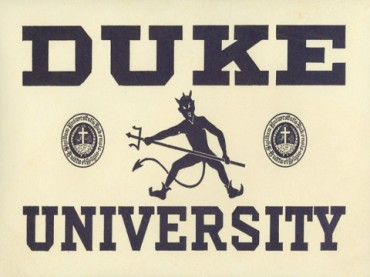 It seems the Blue Devil administration has learned little since its multi-million dollar settlements to three school lacrosse players falsely accused of rape back in 2006. Shortly after that ridiculously handled "case," Duke changed its disciplinary rules so that "a rape could occur even after seemingly consensual intercourse, because of unintentional, perceived power differentials between the parties." However, as Minding The Campus notes,
Amidst strong criticism from FIRE and others, the university quietly dropped the new definition after a year, but didn't reconsider the assumptions that could have led the school to have adopted such a rule in the first place. And to start the 2013-14 academic year, under pressure from "activists," Duke changed its policy again, to have a presumption of expulsion when the school (under very due process-unfriendly procedures) deems a student culpable of sexual misconduct.

That policy change has now led to Duke facing a new lawsuit, filed by a male student expelled on what seems like questionable grounds. (The student was expelled three days before taking his final exams in his final semester.) Indeed, this seems to be precisely the sort of case to which due process skeptic Brett Sokolow had referred when he noted that colleges are increasingly branding students rapists on the basis of incomplete or non-existent evidence.
Perhaps most telling is that Duke Dean Sue Wasiolek, in court, stated that the "presumption of expulsion" rules were never published in the student handbook … but were understood. "We didn't feel the need to make it public," she said. The question then, of course, is just how a policy can be "understood" when it's nowhere to be found.
Like The College Fix on Facebook / Follow us on Twitter
IMAGE: Duke University Archives/Flickr