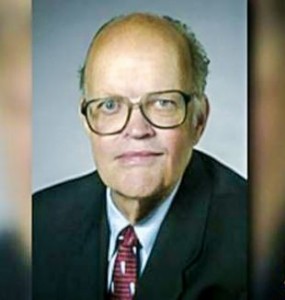 An 80-year-old Duke University professor is under fire for arguing Asian Americans have integrated into America better than African Americans.
Political science professor Jerry Hough posted the controversial statements on a New York Times editorial headlined "How Racism Doomed Baltimore."
Hough argued:
This editorial is what is wrong. The Democrats are an alliance of Westchester and Harlem, of Montgomery County and intercity Baltimore. Westchester and Montgomery get a Citigroup asset stimulus policy that triples the market. The blacks get a decline in wages after inflation.

But the blacks get symbolic recognition in an utterly incompetent mayor who handled this so badly from beginning to end that her resignation would be demanded if she were white.The blacks get awful editorials like this that tell them to feel sorry for themselves.

In 1965 the Asians were discriminated against as least as badly as blacks. That was reflected in the word "colored." The racism against what even Eleanor Roosevelt called the yellow races was at least as bad.

So where are the editorials that say racism doomed the Asian-Americans. They didn't feel sorry for themselves, but worked doubly hard.

I am a professor at Duke University. Every Asian student has a very simple old American first name that symbolizes their desire for integration. Virtually every black has a strange new name that symbolizes their lack of desire for integration. The amount of Asian-white dating is enormous and so surely will be the intermarriage. Black-white dating is almost non-existemt because of the ostracism by blacks of anyone who dates a white.

It was appropriate that a Chinese design won the competition for the Martin Luther King state. King helped them overcome. The blacks followed Malcolm X.
As news of the comments spread via social media, the professor was called "racist" and "ignorant." The university also denounced the professor's views to several news outlets, saying "the comments were noxious, offensive and have no place in civil discourse."
But Hough, who is on administrative leave as part of a retirement plan, largely stands by them, The News & Observer reports.
"I don't know if you will find anyone to agree with me," he said in an email to The News & Observer. "Anyone who says anything is a racist and ignorant as I was called by a colleague. The question is whether you want to get involved in the harassment and few do. I am 80 and figure I can speak the truth as I see it. Ignorant I am not."
The professor also told the campus newspaper the Duke Chronicle in an email "the context was the editorial on Baltimore which instead of calling for the resignation of the mayor as happened in Ferguson—and, in my opinion, both should have resigned—blamed everything on white racism."
Duke Professor tells me he's on leave now after posting this comment on NYT editorial. Report ahead #ABC11Eyewitness pic.twitter.com/pNbatQMBWg

— Elaina Athans (@AthansABC11) May 17, 2015
Hough's profile shows he earned his bachelor's degree, master's degree and doctorate from Harvard University. He's been teaching at Duke since the 70s.
In his email to The Chronicle, Hough wrote:
'ignorant I am not' citing his experience living on the West Coast and traveling to Asheville, N.C., several times from 1940 to 1960. He also explained that he taught in the 1960s from a 'pro-black perspective,' the first book he assigned in his first class in 1961 was 'Black Like Me' and that he is currently writing a book that has two chapters on the changing definition of race.
"The point I was raising was why the Asians who were oppressed did so well and are integrating so well, and the blacks are not doing as well. The comments have convinced me to write a book which will add the Asians to all the research I did on blacks," Hough wrote.