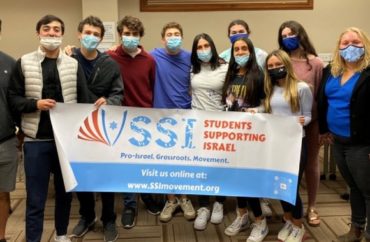 Student claims Students Supporting Israel is 'violent'
Members of Duke University's student government rejected the Students Supporting Israel chapter on Wednesday.
The student government had approved the group just one week before, but then President Christina Wang vetoed the approval.
"Senators could have overruled Wang's veto with a two-thirds majority Wednesday evening," The Chronicle reported. "Ultimately, there were three votes to override the veto, 37 votes to uphold it, 10 abstentions and 8 absent senators."
The reversal came after a student, Elyana Riddick, posted comments accusing the student government of supporting "settler colonialism" on her Twitter page because the senators had approved the pro-Israel group.
Students Supporting Israel then posted a comment on its Instagram that responded to Riddick, which Wang used as the pretext for vetoing approval of the group.
Duke's student newspaper reported on what Riddick said:
The public forum closed with sophomore Elyana Riddick, whose tweet was originally screenshotted and shared by SSI. She said that the screenshot of her tweet was taken without her knowledge and described her fears for her future and for her safety in the wake of the incident. She shared that she was contacted by a reporter in an email with the co-founder of the national SSI organization copied.
Without her knowledge? A Duke student posted her opinion of a recently approved club on her campus using her publicly viewable Twitter page. That's perfectly reasonable. She's free as part of campus debate to criticize the positions of other organizations.
It's also perfectly reasonable for her peers to respond to the accusations on an Instagram page. It cannot be a just standard to say that criticizing the Israel group is acceptable but that criticizing what that opponent said is unacceptable.
Wrong for one Duke student to comment on another student's post, liberal says
Other students picked up the theme that the pro-Israel group acted inappropriately in critiquing their peers.
Lily Levin started off her opinion piece in The Chronicle by recognizing the voices of other activists, because she, as a white woman, needs to acknowledge her privilege.
Levin's piece almost never happened, because she was "hesitant to publish anything that might detract from Palestinian voices or center myself within a narrative of oppressorship and settler-colonialism."
But the situation called for it and she overcame her hesitancy to write the following.
"To contextualize [Student for Justice in Palestine's] letter and my statement of support: Students Supporting Israel (a nationally-recognized organization that describes itself as nonpartisan and independent) recently surveilled and targeted a student who asserted that SSI ascribes to settler-colonial ideology."
Surveilled? Targeted? Does Levin mean "followed on social media"?
Levin said it is "violent" for the pro-Israel group to accuse others of antisemitism for opposing the group. She didn't say it's wrong or inaccurate — but violent.
She said "crying antisemitism at every semblance of accountability or critique of Pro-Israel organizations is violent."
After several paragraphs where Levin praises herself for her work with non-Zionist organizations, she returns to the violence that a campus group promotes.
"Denouncing falsely-proposed claims of antisemitism is essential for so much more than promoting Jewish Anti-Zionist visibility," Levin said.
"Most importantly, combatting these false claims asks Pro-Israel organizations to finally begin repairing the deep trauma that they have caused to their classmates. Regardless of whether Students Supporting Israel at Duke is legitimized as an on-campus organization, it will continue to receive funding from its national chapter," she warned.
"So long as this pipeline is present, violence will be perpetuated against Palestinians," Levin said.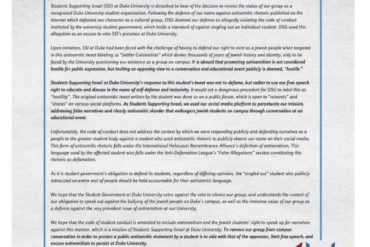 Students Supporting Israel did initially apologize for poor judgement in naming Riddick, but has changed its approach and taken to calling out the discrimination against it.
"Students Supporting Israel at Duke University's response to this student's Tweet was not to defame, but rather to use our free speech right to educate and discuss in the name of self-defense and inclusivity," the group wrote on Tuesday. "It would set a dangerous precedent for DSG to label this as 'hostility.'"
MORE: Cancel culture database entries on Israel
IMAGE: Students Supporting Israel/Twitter
Like The College Fix on Facebook / Follow us on Twitter