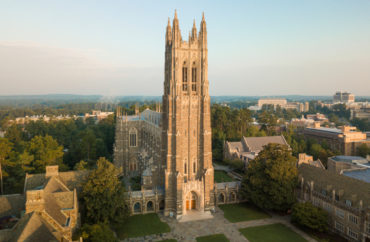 UPDATED
Duke University is under scrutiny by the Department of Education's Office for Civil Rights after a watchdog filed a complaint alleging a campus female-only program violates federal law.
The watchdog, Mark J. Perry, claims that Duke's female-only Alice M. Baldwin Scholars Program is a violation of Title IX as it "operates exclusively for female students and illegally excludes and discriminates against non-female students based on their sex and gender identity."
The program, which aims to support female leaders on campus, also violates the university's own policy on nondiscrimination, according to Perry.
Title IX does not have "unless you have good intentions" exceptions, Perry told The College Fix, saying "sex-based discrimination is still unlawful even if it advantages the 'right' sex for the 'right' reason."
Perry*, a professor emeritus at the University of Michigan Flint and a scholar at the American Enterprise Institute, is a prominent civil rights advocate who has filed civil rights complaints for more than 2,000 violations of Title IX and Title IX at American universities in recent years. Title VI prohibits racial discrimination at universities that benefit from federal funds.
He told The College Fix via email that the complaint against Duke is his eighth federal civil rights complaint against the North Carolina-based university and reflects its pattern of "enforcing Title VI and Title IX selectively with a hypocritical double standard."
Duke will have to either discontinue the Baldwin Scholars program, open the program to all students regardless of sex, or set up an equivalent single-sex, male-only program, he said.
The College Fix also reached out to the program's Director Colleen Scott and faculty directors Terrie Edith Moffitt and Leslie Maxwell about the complaint, but all declined to comment.
According to its website, the Baldwin Scholars program is intended to "[inspire] and [support] female-identified undergraduate students to become engaged, confident and connected leaders in the Duke community and beyond."
The program provides opportunities for female-identified students to network with faculty members, connect with other female-identified students, intern in their desired fields, and engage in seminars. Each fall, 18 new female-identified first-year students are admitted.
In an email to Duke's Office of Counsel, Perry notes that the university is subject to Title IX as it is a recipient of federal funds. He also questioned how Duke reconciles its stated commitment to nondiscrimination with a program that explicitly excludes non-female identified students.
Perry said he has now filed 867 complaints of this nature. Around 400 have been opened for federal investigations so far, of which 360 have been resolved mostly in his favor.
"As a result of my efforts at least 500 programs have been opened to groups (males, whites, and Asians) that were previously illegally excluded based on their sex and/or race," he told The College Fix.
When asked why he has chosen to keep universities accountable, Perry said he is "motivated to challenge the systemic, illegal, and widespread discrimination against certain un-preferred groups in higher education."
He said many universities constantly promote equity and inclusion in theory while practicing exactly the opposite.
*Mark Perry is an editorial consultant to The College Fix on a project unrelated to this article. This article has been updated to clarify the number of violations Perry has cited at universities. 
MORE: Even liberal journalists warn Biden's proposed Title IX regulations violate due process
Like The College Fix on Facebook / Follow us on Twitter