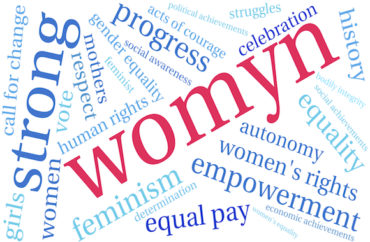 A university in the Netherlands is looking for "permanent" academic staff — but only those who possess two "X" chromosomes.
The Eindhoven University of Technology positions are "exclusively" available to females via the new Irène Curie Fellowship program … at least "for the time being." This means six months according to an online university notice. After the half-year time period, officials "will review the percentage covered by the scheme each year."
Eindhoven Rector Frank Baaijens said "We attach great importance to equal respect and opportunities for women and men. And it has long been known that a diverse workforce performs better. It leads to better strategies, more creative ideas and faster innovation."
If a "good" female candidate hasn't been found for a particular position in the six-month time span, that position will be "reopened."
But don't get your hopes up quite yet, those who identify as male: "It will remain the case that the application committee must nominate at least one female candidate and one male candidate."
How can Eindhoven get away with this overt sex discrimination? So-called "positive discrimination" is not against the law in Holland … nor throughout the whole European Union for that matter: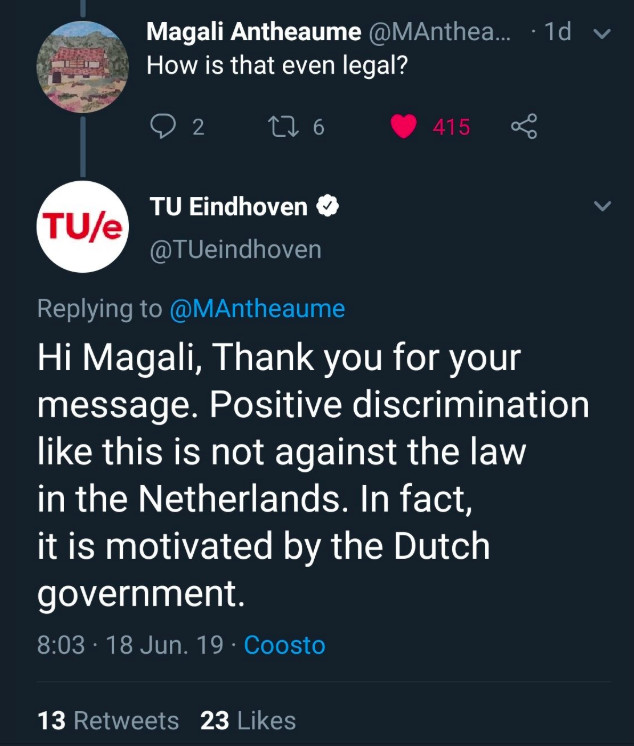 Rector Baaijens confirms this in The Guardian, noting "the laws of the [EU] allow us to favour women, given suitable competences, if they are seriously underrepresented."
Baaijens says the university has tried more "subtle measures" over the last decade to address the (gender) imbalance, but "to no avail":
What has become clear is that during the recruitment and selection processes, all of us – males and females alike – have an unconscious bias that means we gravitate towards male candidates. This makes it harder for women to start and develop their academic careers. To address this unfair situation, we had to take affirmative action, even at the risk of upsetting some male candidates for jobs. The aim currently is to raise female representation to at least 20% by 2020 and eventually to over 30% in the next decade.
He then adds this delightfully paradoxical word salad:
Again, this is not only a matter of fairness. In the Netherlands, as in many other European countries, there is a shortage of engineers. We simply can't afford to exclude half the intellectual potential of our populations. Besides, engineering is a discipline that is all about brainpower, regardless of gender.
To wit: There's an engineer shortage in Europe, but it's more important to attain a "balance" of men and women in the field … despite nothing stopping females from studying engineering.
MORE: Prof who challenges women-only programs threatens lawsuit
MORE: Tulane under federal investigation for women-only scholarships
IMAGE: arloo / Shutterstock.com
Like The College Fix on Facebook / Follow us on Twitter