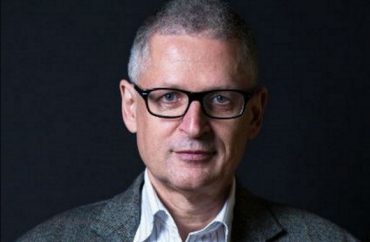 Danish journalist and free speech advocate Flemming Rose recently drew an aggressive pack of student protesters to his speech at Franklin & Marshall College as he spoke on his book The Tyranny of Silence: How One Cartoon Ignited a Global Debate on the Future of Free Speech.
Rose in 2005 published cartoon depictions of the Islamic prophet Mohammed in his role as cultural editor of the Danish newspaper Jyllands-Posten, sparking international controversy and catapulting him to the forefront of free speech debates.
With that, several dozen student protesters converged at his campus talk March 2 voicing anger and outrage that Rose was allowed to speak on campus.
The Judaic studies professor who invited Rose noted in the campus newspaper that prior to the event he was confronted by the students, who "expressed feeling threatened and unsafe" and asked why he would bring someone to the campus who contributes to "ever-increasing feelings of vulnerability, marginalization, and fear for our safety."
Rose said from his perspective many students seemed angry by his appearance.
"There was a loud protest outside the auditorium before my talk, around 30 people," Rose said in an email to The College Fix. "They held posters and one of them showed Kurt Westergaard's cartoon of the prophet with a bomb in his turban on her smartphone, which to me seems a little bizarre. Why show the cartoon if you find it so offensive?"
Other signs stated: "Do not use my prophet as a tool to gain fame," and more demanded he "check his privilege at the door," according to photos obtained by The College Fix.
As his speech began, protesters funneled into the auditorium and stood in protest along a wall "through my talk," Rose said in this email.
"The Q&A started in a hostile atmosphere, but as we went through the session it was my sense that everybody calmed down a bit, there were no boohs or interruptions, quite civilized but tense – and that's the way to manage disagreements," Rose added.
Prior to Rose's visit, Matthew Hoffman, the associate professor of Judaic Studies and History and chair of the college's Judaic Studies Program who invited Rose to speak, was initially told by a few faculty colleagues that the invite was a "bad idea," Hoffman told The College Fix via email.
When arriving at the event, Hoffman tried to lighten tensions by talking with the protesters.
"Some maintained that he shouldn't have been invited, while others disagreed, and some liked part of what he had to say," Hoffman told The Fix via email. "One protester contacted me directly, apologizing for his role in the protest, realizing that the protesters were themselves exercising their free speech, but maintaining that it was a bad idea to invite him in the first place."
Hoffman defended his decision to invite Rose despite the protest.
"I think many of the student protesters themselves would distinguish between his right to publish the cartoons and the moral wisdom of doing so," Hoffman told The Fix. "My commitment to free speech is similar to Rose's. I see a fundamental separation between words and deeds, though one can at times influence the other. As someone from the libertarian left, I believe fully in the universal right to free speech, free expression, and the free exchange of ideas."
After the event, in a letter to the editor of the College Reporter, Franklin & Marshall College's campus newspaper, Hoffman apologized for any hurt feelings he created, but defended free speech nonetheless.
"Before the talk, I tried unsuccessfully to engage some of the protesters in intellectual debate on the issue of the cartoons, and speak to the value of free speech as beneficial for the oppressed and marginalized," Hoffman wrote. "Indeed, their vociferous protestations, and, at times, discourteous shouting of comments at the speaker exhibited precisely just how important the right to free speech is for all, regardless of power or privilege."
Hoffman admitted, however, that he "did not address the emotional distress they [protesters] were experiencing that I now realize was for them the heart of the matter. And for that I am truly sorry. I never wanted to cause anybody pain and didn't think that Rose's words or ideas should have done so."
As for Rose, he said colleges are meant to be intellectually challenging atmospheres.
"It's fine to be upset, but it shouldn't prevent me from talking," Rose said in his email to The Fix. "I think a college has a special obligation to a create an atmosphere where students from time to time are exposed to points of view that they find disturbing and offensive. That's what knowledge-production is about. I think the feeling of being offended too often are being perceived as a legitimate argument not to invite people that students and faculty see as controversial speakers. A college should challenge echo chambers and group thinking."
MORE: University presidents nationwide refuse to sign 'Intellectual Freedom Commitment'
Like The College Fix on Facebook / Follow us on Twitter