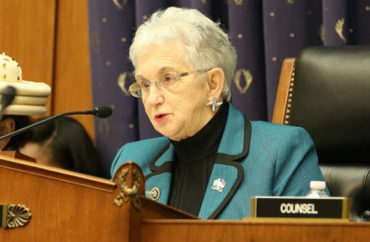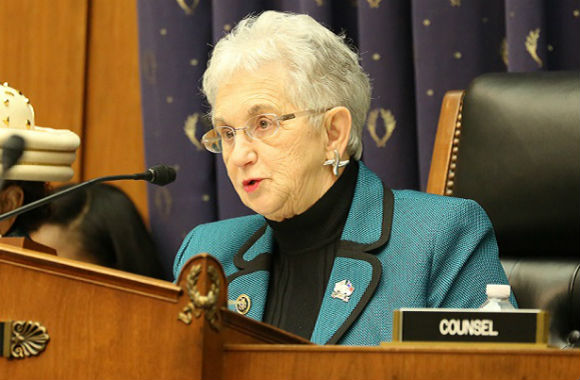 We'll make subsidized loans less burdensome for students in the long run
Virginia Foxx can sympathize with both college administrators and the state lawmakers who give them taxpayer money.
The House Education Committee chairwoman has served in administrative roles at two colleges, including president, and in the North Carolina Senate for 10 years before joining Congress.
"There's never enough money for the education people," she told a conference call Tuesday, recalling her conversations as a state lawmaker with college leaders who had no "upper limit" for their appropriations requests.
Foxx intended to rally the troops for the Prosper Act (HR-4508), the name given to the committee-passed bill to reauthorize and reform the Higher Education Act.
Though it has been praised by higher ed reform groups for removing regulatory barriers to experimentation, rejiggering federal loans and increasing competition on the accreditation side – changes that should make college more affordable – the bill has faced well-organized and unblinking opposition from the beneficiaries of the high-cost status quo, keeping it off the House floor.
Politico reported that House Majority Whip Steve Scalise had planned to conduct a "whip check" of the bill Tuesday night to gauge support in the House Republican Conference, but the bill was "widely seen as a non-starter in the Senate."
Sometimes colleges 'out and out lie' to lawmakers about bill provisions
Foxx pushed back against such gloom and doom in the Tuesday conference call.
She told supporters at the National Association of Scholars, Martin Center for Academic Renewal and American Enterprise Institute, among others, that her Senate counterpart Lamar Alexander has informed her that the best shot at reform is the House bill.
That's because of deep-seated disagreements between him and Democrat Patty Murray, the ranking member on the education committee, that prevent the Senate from considering its own bill, such as Republican Mike Lee's Higher Education Reform and Opportunity Act (S-2228).
When House members ask why they should "put our necks on the line" to vote for a bill that won't get a Senate vote, Foxx said she reminds them that they got "65 to 70 percent of what we wanted" when the Senate passed a bill similar to her Skills Act a few years ago.
"Everyone in this country has a stake in the future of our country." @virginiafoxx knows what it will take to get American's the skills they need to fill the country's 6 million open jobs. pic.twitter.com/Rgziq9epue

— House Ed & Workforce (@EdWorkforce) May 16, 2018
Once the Republicans can get to 210-215 votes the bill will come up for a vote, but with other big bills in its way, the Prosper Act is "likely to get pushed back from the third week in June," when it was originally scheduled, she said.
"This is the first real reform since 1965," Foxx told supporters. Fewer than 55 percent of students obtain any kind of "credential" in six years, and the cost of one student not completing a baccalaureate program is $68,000 a year, while college costs have increased 3.2 percent over inflation since 2007, she claimed. "We just don't have enough completion out there, which is creating problems in many, many ways."
Opponents of the bill are "beginning to push back" now that the bill is on the House calendar, and "sometimes they out and out lie" to members, Foxx said. Her peers are listening too much to a small segment of constituents, college presidents, who have trouble even articulating what's wrong with the bill. The bill is "close" to zero financial impact as scored by the Congressional Budget Office, but opponents are still saying it cuts student aid, she said.
Why forgive loans for people who 'could be making a lot of money'?
The main objection by universities is the Prosper Act's junking of the Public Service Loan Forgiveness program, which serves a smaller slice of students than universities claim, Foxx said.
The program is only available to those who work for nonprofits or government agencies, and they are "probably more in the urban areas," she said. "These people could be making a lot of money" while getting their loans canceled.
Colleges also "do not want to be responsible for telling students they shouldn't borrow as much" or borrow money for programs they're unlikely to complete or find useful for employment, Foxx said.
The Public Service Loan Forgiveness Program (PSLF) allows millions the hope of one day being debt-free after years of service to their country. Despite public servants' valuable contributions the #PROSPERAct eliminates the entire program. https://t.co/smudvhkeLg

— Higher Ed, Not Debt (@HigherEdNotDebt) June 12, 2018
The PROSPER Act isn't perfect, but calling it #GoodBill4BadSchools, isn't accurate. It's a good bill for taxpayers, who would no longer have to finance the student loans of government workers under public service loan forgiveness

— Mary Clare Amselem (@MCAmselem) June 13, 2018
Though she'd like to get the government completely out of subsidized loans, Foxx said the Prosper Act offers a better deal to students: no origination fee and no interest payments after 10 years, rather than the four-year pause at the beginning of the loans.
This provision does not get enough attention from supporters, she told AEI's Preston Cooper: "We can't quite quantify that … but we can tell intuitively that's a better deal."
Colleges are also misreading the bill's repurposing of work-study funding toward the private sector and disingenuously howling about caps on graduate student federal loans, whose unlimited availability helps schools raise tuition with no consequences, Foxx said.
Told by AEI's Cooper that grad students can obtain cheaper loans on the private market, Foxx said she's conveyed the same message to members. Universities are mad that the bill focuses on undergraduates, wondering "where are your philosophy professors going to come from?" without unlimited grad student loans, she said.
Why limit accreditation to those for whom it's their 'principal purpose'?
The Heritage Foundation's Mary Clare Amselem asked Foxx to consider removing a clause that says accreditation must be the "principal purpose" of would-be accreditors, when more institutions will be interested in accreditation as a "secondary option." Foxx promised to review it.
One area that is a "real plus" for hesitant members is the bill's provisions to protect religious freedom and the right of religious colleges and groups to govern themselves by their conscience, Foxx told Rachelle Peterson of NAS. "I don't see any threat to that section at all," even with Democratic amendments, the chairwoman said.
Title IX-related provisions have drawn relatively little attention in recent months, Foxx told The College Fix. She met with a group of interns who brought up the bill's provisions, which drew early criticism from some groups that fight sexual assault, and "they seemed OK with the answer we gave." When the bill gets to the floor, "we will probably have some amendments on that," Foxx said. Committee staffer Jones said it simply aims to put "due process back into the system."
One Republican lawmaker to target for persuasion is Ohio's Bill Johnson, Foxx told NAS President Peter Wood. Texas members also "have hesitation," she told Tom Lindsay of the Texas Public Policy Foundation. The key messaging should be how the bill helps workforce issues at a time when every private group she meets with says they can't find qualified employees.
"This is not a bill that has caught the attention of the American public" so they aren't pressuring their representatives to back it, Foxx said. Committee staffer Amy Jones asked supporters to "help us build that case" that "schools aren't good actors in some cases."
MORE: Hope for higher ed reform is on the horizon
IMAGE: Rep. Virginia Foxx
Like The College Fix on Facebook / Follow us on Twitter