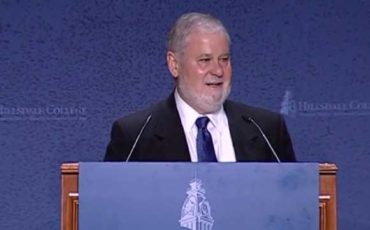 "Ed departments…they're the dumbest part of every college," the president of Hillsdale College said in a video published June 30 by News Channel 5.
"If you study physics, there's a subject, right? How does the physical world work? That's hard to figure out," President Larry Arnn said at a meeting in June with the governor of Tennessee.
"Education is the study of how to teach," Arnn (pictured) said in the video. "Is that a separate art? I don't think so."
"Do they ever talk about anything except what they're going to do to these kids?" he said.
News Channel 5 posted two composite videos on June 30. Together, they include segments of Arnn's speech, a sit-down conversation between Arnn and Tennessee Governor Bill Lee, and critical commentary from a Democratic congressional representative and an education lobbyist. 
The footage of Arnn and Lee was taken secretly at a June private reception in Franklin, Tennessee, according to the Chattanooga Times Free Press.
Lee announced in January a plan to partner with Hillsdale College to set up 50 publicly-funded charter schools throughout the state, News Channel 9 reported.
In his speech, Arnn criticized American college departments of education and K-12 public school teachers. He continued his critique in conversation with Lee.
"The teachers are trained in the dumbest parts of the dumbest colleges in the country," he said.
"They're messing with people's children, and they feel entitled to do anything to them," Arnn said.
"We're going to try to demonstrate that you don't have to be an expert to educate a child," he said. "Because basically anybody can do it."
"Now, because they are appointing all these diversity officers, what are their degrees in?" Arnn said. "Education. It's easy. You don't need to know anything."
National Review author, CBS article confirm Arnn's critique
Arnn is correct in asserting that most education degrees are "easy" majors, Kevin Williamson wrote July 1 in National Review.
"Education programs are not very academically rigorous," Williamson wrote. "Drop a 3.9 GPA education major into a physics program and chances are that he isn't going to finish at all."
Education majors on average have the lowest standardized-test scores in high school but finish college with the highest GPAs, Williamson wrote, citing a 2011 CBS article.
MORE: Jordan Peterson delivers commencement speech to Hillsdale College graduates
IMAGE: Hillsdale College/YouTube
Like The College Fix on Facebook / Follow us on Twitter