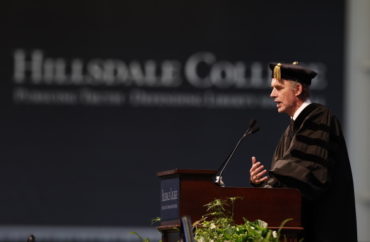 'It's better to give than to receive … there isn't a better experience than that'
Clinical psychologist Jordan Peterson did not mince words in his commencement speech to Hillsdale College graduates on Saturday — he told them to face inevitable suffering in life with courage and selflessness.
He called on the Class of 2022 to, when they "meet the devil at the crossroads," to "aim up."
"If you are tempted to aim down … you can descent into a nihilist hopelessness," said Peterson, author of the best-selling book "12 Rules for Life: An Antidote to Chaos."
"If you are hurt by life, and you will be … it's understandable to become anxious and depressed," Peterson said.
But, he added, "it's incumbent on you, and actually in your best interest and everyone else's, to maintain faith in the fundamental goodness of existence, including your own, despite the evidence to the contrary."
"You can draw conclusions from suffering in two ways," he continued. "One is that you have a duty, and perhaps the capability, to transcend the suffering and still serve the good, or you can derive the conclusion that life is so unbearable it would be best to terminate it."
Peterson said when "terrible" things happen in life, it's a thought that presents itself: "But I would say faith is the courage to not take that path despite the evidence that might be justified."
It was advice he gave to his daughter, who suffers from an illness, when she was just a child.
"Do not take advantage of your illness as an excuse, and I told her that when she was in grade two. It's no joke to tell someone that. I knew she had every reason to be embittered. But I also knew that if she was, in culmination with her illness, the two things might be worse than fatal. If you don't think there are things that are worse than fatal, you have not suffered, because there are things that are much worse than fatal," he told the graduates.
Peterson, in his 40-minute speech, challenged the prevailing narrative taught at institutions of higher learning that "the fundamental motivation is power, there is no place for people of good will to meet and engage in constructive dialogue."
"It's such a dismal philosophy," he said. "You could not formulate a more pathological philosophy. It obliterates your faith in society and it eradicates the notion of the individual. It removes the notion of good faith and good will and it makes communication impossible."
But he also challenged the Hillsdale grads against "self aggrandizement" and the opportunity to "serve your own ambition."
"Take apart what that means," the professor emeritus of psychology at the University of Toronto said. "Psychopaths serve their own ambition. And they are the people who are most truly motivated by power."
He denounced the notion that it is "better to rule over hell than be a servant in it."
"That's not success to me," he said. "The most powerful devil. That's like the worst possible failure."
"You're called upon to take the lessons you have been taught at a university like this that attempts to teach you to abide by the eternal verities to sacrifice your own narrow pretentions in the highest sense to something that's truly better; not because you should, in some finger-wagging sense, but because there is truly nothing better."
He cited a founding American ideal that "each individual is of divine worth."
"You have something to bring into the world that no one else can bring in, and so if you fail in that duty, you deprive the world of that. … It's beneath you to do that. … Don't do that. You'll make that choice at the crossroads."
Instead, he told the grads to sacrifice themselves to the service of other people.
"That is where meaning is to be found, and you need a deep meaning to sustain you through tragedy," he said. "It's better to give than to receive … There isn't a better experience than that."
MORE: Jordan Peterson helps Franciscan University students persevere through suffering
IMAGE: Hillsdale College
Like The College Fix on Facebook / Follow us on Twitter