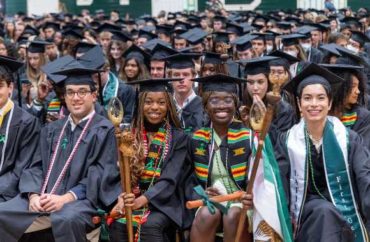 More than 80 percent held an 'unfavorable' view of the Republican party
Most members of the Dartmouth College graduating class identify as liberal, while a small minority call themselves conservative, according to a new survey by the campus newspaper.
The Dartmouth, the Ivy League university's student newspaper, conducted its annual survey for members of the Class of 2022 on their political views and college experiences and reported the findings June 12.
Seven percent of responding graduating seniors said they are "somewhat conservative" and just one percent said they were "very conservative," compared to eight percent last year, according to the survey.
A strong majority of graduating seniors identified themselves as "very liberal" (39 percent) or "somewhat liberal" (36 percent).
The paper sent the online survey to the 1,143 graduating seniors via email on May 25 and accepted responses through May 29. Just over 12 percent of those surveyed responded.
"Using administrative data from the College's Office of Institutional Research, responses were weighted by gender, race/ethnicity, sexual orientation, Greek affiliation and international student status," The Dartmouth stated. "Weighting was done through iterative post-stratification [ranking]."
Eighty-two percent of seniors surveyed held an unfavorable view of the Republican Party, while just 44 percent viewed the Democratic party unfavorably, according to the survey. Forty-two percent favorably viewed the Democrats, while just 9 percent held a favorable view of the Republicans. Ninety-one percent of graduating seniors held an unfavorable view of former President Donald Trump.
Seniors also expressed significant pessimism about the future of the United States. Nearly 80 percent indicated that affairs in the country were "off on the wrong track," yet only six percent said the country was "headed in the right direction," according to the summary. Thirty percent of last year's class declared optimism about the future.
Respondents do not look favorably on the federal government, though more than half approved of Biden
The survey also asked graduating seniors for their views about the three branches of the federal government. Sixty-five percent viewed Congress unfavorably, while nine percent viewed it favorably, and 52 percent viewed President Joe Biden favorably, compared to 33 percent who indicated negative views.
Approval of the Supreme Court declined sharply from 2021, when 35 percent of graduating seniors approved it and 37 percent disapproved.
In contrast, 11 percent of the Class of 2022 viewed the Court favorably, while 67 percent registered an unfavorable rating, according to the survey.
MORE: Just 6.5 percent of Harvard's new grad say they're conservative
IMAGE: Dartmouth/Facebook
Like The College Fix on Facebook / Follow us on Twitter