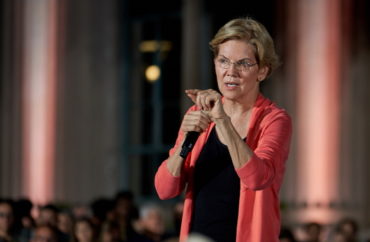 'Youth Voting Rights Act' seeks to expand access to voting
Arguing young voters are disenfranchised, Massachusetts Democratic Sen. Elizabeth Warren and Georgia Democratic Rep. Nikema Williams have introduced the Youth Voting Rights Act in an effort to vastly expand voting access to 18-year-olds.
The proposed legislation, called the "Youth Voting Rights Act," seeks to establish pre-registration voting processes for 16- and 17-year-olds and turn every public university in the nation into mandatory polling locations.
If circumstances at particular institutions do not permit on-campus voting centers, the bill calls for officials to implement alternative procedures, such as providing free shuttles to other nearby polling locations, making available campus absentee voting drop boxes, or offering an on-campus early voting option.
The bill also seeks to require voting locations to accept college student IDs as valid identification.
Warren, in a news release, argued the bill is needed because young voters "participate in elections at lower rates than voters in older age cohorts. Their provisional ballots and mail-in ballots are rejected at disproportionate rates. And they routinely face serious obstacles to voter registration and in-person voting."
Last week, @SenWarren & @RepNikema introduced the Youth Voting Rights Act, which includes major legislative proposals that would expand registration & voting access for college students and other young people. ⁠
⁠
Learn more & find our full statement: https://t.co/hKCwSJWHlY pic.twitter.com/FNxSw6NVlj

— Campus Vote Project (@CampusVote) July 18, 2022
"Lower youth voting rates are not a sign of generational apathy but of systemic barriers and issues with the culture of political engagement that have plagued young people of various generations for decades," the bill argues. "Voter turnout is bolstered by on-campus voting locations because those locations lower the opportunity costs for voting for all registered voters, particularly for young registered voters."
The bicameral bill is sponsored by six Senate Democrats and 15 House Democrats. It is also supported by organizations such as the American Civil Liberties Union and MoveOn.
However, not everyone agrees with the bill at this time. Calling it an "awful idea," Andrea Bayer, co-chair of the Fairfax GOP Election Integrity Team, told The College Fix she does "not support this legislation."
She is not alone.
James White, a Republican member of the Texas House of Representatives, stated on Twitter that the legislation is "performative politics because the authors of this legislation while priming the pump on 'voting rights' for 18-year-old voters, they are working to limit the 2nd Amendment rights. If you trust them to vote, trust them to exercise all of their rights."
The College Republican National Committee did not respond to requests from The College Fix seeking comment.
MORE: Elizabeth Warren's pushing for free college. Meanwhile her Harvard professor husband earns $400,000 a year.
IMAGE: Jeffrey Alan Photography / Shutterstock
Like The College Fix on Facebook / Follow us on Twitter