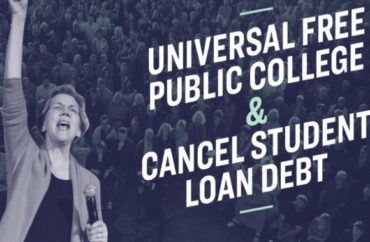 ANALYSIS: Enormous salaries represent one of the root causes of the problem of skyrocketing college costs
Massachusetts senator and 2020 Democratic presidential candidate Elizabeth Warren has made free college and loan forgiveness a central plank of her campaign. To pay for it, her plan seeks to tax the wealth of America's richest families.
But while Warren bemoans the soaring costs of college — her husband Bruce Mann is a law professor at Harvard University who earns an annual salary of about $400,000 a year, according to income tax documents the couple has made public.
Mann teaches on U.S. legal history, property, and trusts and estates, his online faculty bio states.
Meanwhile, in the past when Warren taught as a law professor at Harvard, she also earned a substantial salary. During 2010 and 2011, she earned $429,981 from the Ivy League university. Prior to that she was listed as being one of the top earners at Harvard, Heavy reports. In 2009 at Harvard she earned nearly $350,000, according to the Boston Globe.
The professors' enormous salaries represent one of the root causes of the problem of skyrocketing college costs and is another typical example of liberal and leftist hypocrisy, said Professor Mark Perry, an economist at the University of Michigan-Flint.
"One of the reasons college tuition has risen over time more than any other consumer good or service, fueling the rise in student loan debt to $1.6 trillion (twice the level in 2010), is because of the high and rising salaries for college administrators and highly paid professors like Sen. Warren and her husband," Perry told The College Fix via email.
"The real and only long-term solution to rising college tuition and rising student loan debt is not free tuition or student loan forgiveness, but to reign in the costs of college by addressing the root cause of 'administrative bloat.'"
MORE: Of the 200 top-paid public employees in Arizona, 199 work in higher ed
MORE: In Virginia, 80 percent of the highest-paid public employees in higher ed
A request for comment from The College Fix to Professor Mann was not returned.
The apparent hypocrisy of Warren's policy proposals and her and Mann's salaries has not been lost on all observers.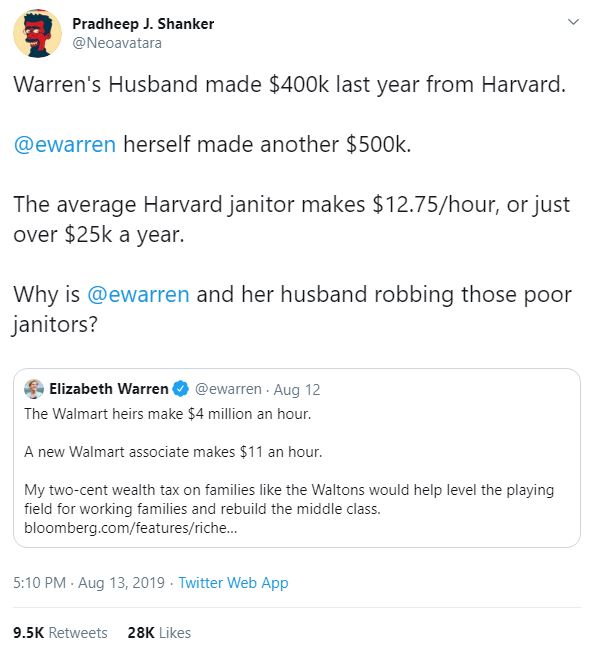 In mid-August, Warren tweeted: "The Walmart heirs make $4 million an hour. A new Walmart associate makes $11 an hour. My two-cent wealth tax on families like the Waltons would help level the playing field for working families and rebuild the middle class."
In response, one Twitter user replied: "Warren's Husband made $400k last year from Harvard. @ewarren herself made another $500k. The average Harvard janitor makes $12.75/hour, or just over $25k a year. Why is @ewarren and her husband robbing those poor janitors?"
MORE: More on Elizabeth Warren, click here
Like The College Fix on Facebook / Follow us on Twitter