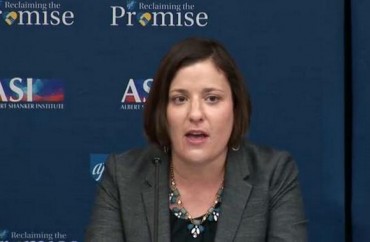 In interview with The College Fix, University of Wisconsin professor Sara Goldrick-Rab apologizes as criticism and defense of scholar mount
University of Wisconsin sociology Professor Sara Goldrick-Rab, who has come under fire for comparing Gov. Scott Walker with Hilter and antagonistically tweeting at incoming freshman about the governor's budget cuts to the system, said she regrets causing people offense.
In a telephone interview with The College Fix on Friday, Goldrick-Rab acknowledged her tweets could have been crafted better, and that her "interest in debate doesn't come across and that I may have caused, well I think I clearly caused offense, and I'm sorry for that. That was not my intention."
Goldrick-Rab stood firm in her criticism of Scott Walker though, and said "anybody who watches me knows that while I went a little far in terms of how the tweet was framed about the governor, I think it's clear that I have real concerns about his leadership, his policies, and the positions he's taken."
On the topic of her tweeting at incoming students, she said the tweets were not meant to disparage the University of Wisconsin, but instead to raise awareness.
"I had and have very real concerns that there's not enough awareness about the threats to the university," she said. "I was trying to say there were major threats to this university, and that they need to be discussed and people need to know about them."
Goldrick-Rab admitted that her "intentions" did not come across as she wanted them too. She said it is "very clear" that she loves the University of Wisconsin and the state.
Her comments come a few days after The College Fix broke the story about the professor comparing Walker to Hitler. Soon after the news spread, allegations surfaced that Goldrick-Rab had contacted prospective UW-Madison students via Twitter about UW-Madison budget cuts.
The stories have gained national attention, and have resulted in condemnation from both students and fellow faculty members.
On Thursday, the faculty senate of UW-Madison condemned Goldrick-Rab with the following statement: "As faculty members of the University of Wisconsin-Madison, we support free speech and diversity of opinion, as has been our tradition. Such freedom requires responsible behavior and in this respect we are deeply dismayed with the actions Professor Sara Goldrick-Rab has taken toward students and faculty on Twitter in recent weeks to discourage them from coming here. While claiming to stand for academic freedom, she has in fact damaged that principle and our institution with inaccurate statements and misrepresentations. We stand with our fellow faculty, staff, and students who have devoted themselves to maintaining and building on our university's extraordinary and distinguished record of teaching, research, and service to the people of Wisconsin and beyond."
Chancellor Becky Blank also released a statement against Goldrick-Rab's actions, but defended her right to freedom of expression in part by saying, "I strongly disagree with the sentiments that have been expressed on Twitter by a UW faculty member. At the same time, the university advocates for free speech. Even highly distasteful and controversial opinions are protected by the First Amendment."
Students at UW-Madison have also been quick to voice concern over Goldrick-Rab.
Young Americans for Freedom at UW-Madison sent out a press release calling Goldrick-Rab's actions "blatantly unprofessional and biased."
"I am extremely upset that a university that prides itself on the pursuit of knowledge is allowing professors to straight up indoctrinate people before they even enter school," YAF of UW-Madison Co-Chair Kelly Ward told The College Fix. "There are many good reasons for getting rid of tenure, and the actions of Professor Goldrick-Rab are a great example of some of them."
"Unfortunately, I think that this is a more widespread problem than just this one professor – and both the university and the greater community should realize that as well, because intellectual diversity is a cornerstone of a successful society."
National YAF spokeswoman Emily Jashinksy echoed Ward's sentiments, saying in an email to The College Fix that "professors aren't just teaching students biased material anymore, they're actively bullying them. We've seen this at Virginia Tech, the University of Michigan, and elsewhere in the last year alone. Liberal professors have a track record of targeting students at universities across the country."
She also added that plenty of conservative students are "bold enough to stand up for their beliefs in this increasingly hostile territory."
The College Republicans chapter of UW-Madison also put out a press release over Goldrick-Rab's comments, but made it clear in a later tweet that they were not interested in getting Goldrick-Rab fired.
However, Goldrick-Rab has her fair share of defenders as well.
A petition posted on Moveon.org had more than 185 signatures Friday supporting Goldrick-Rab's right to make the comments that she did.
The petition is addressed to UW-Madison Chancellor Becky Blank, and reads "please retract your comments in the Milwaukee Journal Sentinel and publicly support Dr. Sara Goldrick-Rab's right to free speech!"
UW-Madison professor Karma Chavez also has taken a stand for Goldrick-Rab, tweeting that the attacks on her are "bs" and said "she's one of the only faculty speaking about the UW mess."
And a post on the American Association of University Professor's Academe Blog titled "In Defense of Sara Goldrick-Rab" states "the notion that professors should be banned or discouraged from engaging in conversations on substantive issues with students is anathema to the basic ideals of intellectual engagement at a university."
Like The College Fix on Facebook / Follow us on Twitter