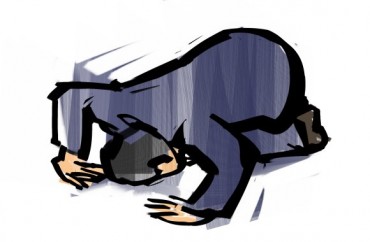 UCLA students were rattled when they discovered their Undergraduate Students Association Council president had made a gang sign in a year-old photo.
President Danny Siegel claims the photo was snapped sometime before last year's student government election, and the group chat in which it was posted had been deleted.
The symbol allegedly is associated with the well-known Bloods gang. The Daily Bruin reports that "many students said they think the gesture was insensitive to individuals affected by gang violence."
Some of those "many students," all African-American, took it a step further and called an "emergency community meeting" to discuss how to respond to the photo.
"When a white person throws up the gang sign, they're basically making a mockery of the oppression that African Americans in hyper-segregated neighborhoods face," student Robert Gardner said. "A lot of black Bruins are extremely upset at this appropriation of our culture … that's derived out of anti-black racism."
Kosi Ogbuli, a first-year neuroscience student and incoming vice chair of the Afrikan Student Union, said he thinks the photo is inexcusable.

"From where I grew up, it's a sign that implies a lot of things and a lot of danger," Ogbuli said. "It's like a name tag for what gang you're in – that's your set and you're proud of being in it."

He added political figures on campus should be aware of the implications of the sign, even if they do not fully understand the history behind it.

"That's not something that should be mocked or even thought about by somebody that is a student leader," Ogbuli said. "For some students, that might be a reality, a reason why their father or mother is not in the picture." …

NJ Omorogieva, a second-year sociology and psychology student, said she knows people on campus who have been deeply affected by gang activity.

MORE: Teacher made students remove Christian cross necklaces, called them 'gang symbols'

"Being part of the black community at UCLA, I know people who do have high stakes (in the issue)," she said. "For someone to mock it is extremely disrespectful. … The only reason why an apology was even given was that the student body found out about it."

Omorogieva added posing with the sign is supposed to represent pride for what gang someone belongs to, and she could not imagine using the sign as someone outside gang culture.

"You know how long it takes to form your fingers into that?" she asked. "In all those minutes, you must have thought about doing it, positioned your fingers, posed for pictures – it takes a pretty long time for you to not realize it's wrong."
Siegel posted an apology on Facebook where he said his actions were the "result of my white privilege and lack of perspective," which is "something that so many victims of gang violence don't have the luxury of."
"When I as a white man make a 'simple mistake', 'joke', or 'claim ignorance', I can get off easy, while for a person of color it can be criminal," he wrote.
Siegel did note he believes whoever leaked the photo "is trying to use it as a political weapon in the ongoing election against the candidates running in his slate."
MORE: Police hid gang-related nature of William & Mary shooting from school
Like The College Fix on Facebook / Follow us on Twitter
IMAGE: Shutterstock