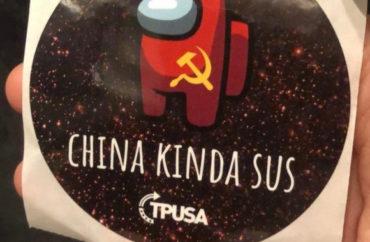 Emerson College is launching an investigation into a campus conservative group after it handed out stickers critical of the Chinese government, according to a document obtained by The College Fix.
In a letter sent to the president of the Turning Point USA chapter at Emerson, the group is being investigated for violating the school's "Code of Community Standards" after an event last week in which stickers that said "China Kinda Sus" were distributed on campus.
A letter by Interim Emerson President William Gilligan called the stickers "anti-Chinese messaging" that is "inconsistent with the College's values and will not be tolerated on our campus."
"The expression of free ideas cannot and should not violate these standards that are integral to creating an environment where all members of our community feel a sense of belonging," wrote Gilligan. "At this time in particular, when there has been a rise in anti-Asian sentiment, it is important to denounce all instances of anti-Asian bigotry and hate, and affirm our support and solidarity with the Asian and Asian-American community on campuses and around the world."
"The sticker contained the symbol of the CCP, which should make it obvious it was referring to the Chinese government, and not about Chinese people," Sam Neves, president of Turning Point USA – Emerson, told The College Fix in an email.
"The president of the entire college, the international student's department, and several other college administrators released statements assigning racist malice to those meme stickers and condemning our organization without even talking to us first," Neves said.
"Now our organization faces removal from campus and all our board members face potential disciplinary action by the school," Neves said, adding, "As an international student, some of those disciplinary actions could get me deported out of the United States."
The sticker included a photo from a popular online game called "Among Us," where players try to guess who the enemy is. The phrase "China kinda sus," refers to being "suspicious" or "suspect."
TPUSA immediately fought back with a video filmed by Vice President and Campus Coordinator Kjersten Lynum, which was posted to Twitter and Instagram.
"The sticker intends to criticize the Chinese government, the regime responsible for the largest genocide in the world right now," said Lynum, adding, "it has nothing to do with Asian ethnicity or Asian culture."
Lynum further notes her relatives are from China and Singapore, saying she is "offended that people would suggest I have hatred towards my own race."
"Genocide kinda sus," she added, demanding an apology from "all the people who have been defaming our organization."
The mob didn't like our stickers, we don't like the mob. Emerson admins assigned racist malice to our 'China Kinda Sus' stickers. See our response! @charliekirk11 @theisabelb @MorganZegers @TheJordanRachel @GrahamAllen_1 @bennyjohnson @ErinElmore @_Kendalljones_ @therealistaylor pic.twitter.com/11udLcSJYO

— Turning Point USA – Emerson (@tpusaemerson) October 1, 2021
When asked for comment, Emerson spokesperson Michelle Gaseau said the school would have no further comment beyond their initial statement.
But a letter sent to campus community members by the Office of International Student Affairs denounced the stickers as "xenophobic weapons."
"The 1st amendment and US Constitution restricts the government from limiting speech, but words have power and words have consequences," wrote the OISA in an email to campus residents. "When words are used to create a hostile environment for community members, this can cause true harm."
The Emerson Chinese Students Association called the stickers "utterly senseless and intolerable" and demanded both an apology and disciplinary action against TPUSA.
The letter sent to Neves by Emerson Director of Community Standards Jule Rothhaar-Sanders notifying TPUSA of the investigation places limits on what the group can discuss publicly.
"It is expected that you will keep what is discussed during our conversations confidential," wrote Rothhaar-Sanders. "This means you should not talk about the statements you make during the interview, with anyone," she wrote, noting that he can discuss statements with his personal representative.
Earlier this year, an Illinois high school banned its TPUSA chapter after the group mounted a poster with the same image and slogan as the Emerson sticker.
More: Democratic politicians get Turning Point student group canceled over poster mocking China
IMAGE: Turning Point Emerson
Like The College Fix on Facebook / Follow us on Twitter