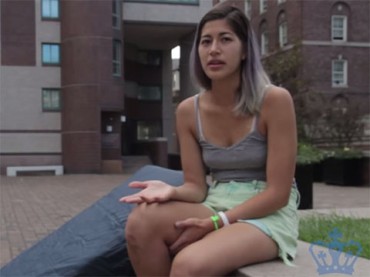 The parties in newly graduated student Paul Nungesser's Title IX lawsuit against Columbia University are having a pretrial conference next week.
They'll be arguing before a federal judge whether Columbia created a "hostile educational environment" by enabling "Mattress Girl" Emma Sulkowicz to ruin Nungesser's life by publicly identifying him as a rapist (despite Columbia's exoneration of him) and harassing him via her "Carry That Weight" project.
In a joint letter ahead of the pretrial conference, not only do the parties disclose that they are "prepared to explore" a settlement ahead of trial, but also drop an interesting tidbit about new evidence Nungesser plans to introduce:
[F]rom May 11, 2015 to May 15, 2015, Defendant Columbia had on display Emma Sulkowicz's pornographic prints at the Columbia University Visual Arts Program in the Leroy Neimann Gallery in the Dodge Building on Defendant Columbia's campus. The pornographic prints were printed over as well as next to two New York Times articles previously published about Emma Sulkowicz's false allegations against Plaintiff Nungesser. Due to the articles identifying Paul by his full name, to any reasonable viewer of the prints, these prints portrayed Paul engaged in sexual assault and in explicit pornographic images.
Nungesser also accuses Columbia of giving Sulkowicz a "special university privilege" to bring her mattress to their graduation, which further harassed him, and gave her honors "not based on grade point average" that show Columbia "rewarding, encouraging and celebrating" Sulkowicz's harassment of Nungesser.
RELATED: Columbia bends the rules for 'Mattress Girl' again at graduation
RELATED: Columbia shelled out for 'Mattress Girl' and condemned accused student, suit says
Like The College Fix on Facebook / Follow us on Twitter
IMAGE: YouTube screenshot