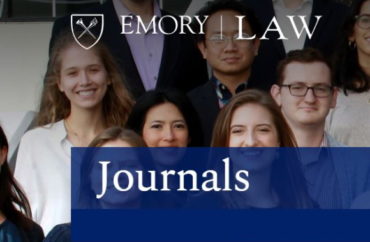 Emory administrators profess 'deep commitment to academic freedom' as controversy over legal scholar's axed article swirls
A controversial law professor's article was refused publication in Emory University's law review for including language student editors deemed "hurtful and unnecessarily divisive," drawing steep criticism from First Amendment advocates.
As the controversy festers, campus leaders maintain the university stands by its faithfulness to principles of free speech and academic freedom.
Emory's law school has a "deep commitment" to upholding "academic freedom" and to supporting a campus environment that fosters "robust debate about important and sometimes controversial topics," university spokeswoman Susan Clark told The College Fix.
The statement comes after Emory Law Journal's executive board "unanimously" decided to nix publication of a California law professor's article after finding the piece "insensitive."
Danielle Kerker Goldstein, editor-in-chief of Emory Law Review, allegedly told author Larry Alexander that unless his article was "greatly revise[d]" to remove content the executive board objected to, the journal would "withdraw" its "publication offer," Reason reported.
A Warren Distinguished Professor of Law at the University of San Diego, Alexander had previously been invited by the journal to contribute to a festschrift, or collection of pieces, honoring retiring Emory law Professor Michael Perry.
In his proposed piece, Alexander analyzed legal claims surrounding disproportionate racial impact and defended the U.S. Supreme Court's ruling in Washington v. Davis, in which the court ruled that laws which were not originally intended to be racially discriminatory, but which nevertheless were found to have that effect, are not necessarily unconstitutional.
Kerker Goldstein stated that the law review did not "feel comfortable publishing this piece as written," noting that the journal's leadership took "issue" with Alexander's framing of "systemic racism" while calling his language "unnecessarily divisive," Reason reported.
She also reportedly referenced "various instances" of the use of terms the executive board found "insensitive," particularly "widespread use of the objectifying term 'blacks' and 'the blacks.'"
Alexander, who is no stranger to criticism for his views on racial issues, refused to comply with the journal's demands to rewrite his article, and it was therefore not published as originally planned.
The students' rejection of Alexander's article was "not intended" to "censor" him, but "rather to ask that [he] address concerns regarding the degree to which the submission met the quality and sourcing standards" of the law review, according to Clark.
Clark, Emory's associate dean for marketing and communications, said that along with concerns over Alexander's language, the journal's board also took issue with the "absence of citations" in the article, which she asserted that "any law journal would require" in order to back up some of the professor's claims.
Additionally, Clark noted the students had "concerns" that Alexander's piece was not "strongly connected to commentary" of Perry's academic work, which she said was the "intended focus" of the festschrift.
Two law professors, one liberal and one conservative, have withdrawn their articles from publication in the journal in protest of the student board's treatment of Alexander, Reason reported.
Two other law professors have reportedly conditioned the publication of their own essays on Emory Law Journal's willingness to include a note from them criticizing the decision.
In commentary for Reason, journalist Robby Soave argued that the law journal's decision amounted to an "obvious violation of basic principles of academic freedom," and wrote that Alexander's views on "whether racism is an important issue today" are "certainly relevant to his rejection of Perry's philosophy."
Kerker Goldstein did not respond to an emailed request for comment.
MORE: Cleveland law school may strip Chief Justice John Marshall from name
IMAGE: Emory Law screenshot
Like The College Fix on Facebook / Follow us on Twitter