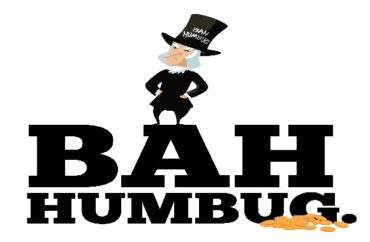 An Emory University fraternity faces disciplinary measures after putting up a Christmas wreath on its front door.
Alpha Tau Omega received notification of its "violation" two weeks ago via an email from Assistant Director of Sorority and Fraternity Life Josh Gamse.
Gamse's message noted the wreath was ATO's second housing offense, and as such an "incident report" was sent to the Office of Student Conduct.
According to current Emory U. policy, "Exterior holiday decorations must not be installed or removed by students." But ATO's Davis Van Inwegen told Campus Reform this policy is new and that the fraternity "was not sufficiently informed" about it.
He said the first of ATO's two "offenses" likely was the "inflatable polar bears" put up on a balcony around Thanksgiving.
Van Inwegen said a Google search showed Emory's old housing regulations which "did not contain the exterior installation restriction." He said Gamse acknowledged this and was going to contact the Emory IT department about it.
Indeed, the Emory Housing Policies page indicates it was last updated on December 8, five days after Gamse's email to ATO. Note that the page's very first sentence reads "All Emory University housing policies may be amended at any time at the discretion of the Offices of Residence Life, Sorority and Fraternity Life, & Housing Operations."
MORE: UK teacher bans Christmas cards – to save the environment
Van Inwegen said ATO "followed policy 'to a T given the available information.'"
"There are no lights, decoration hung on light fixtures, or any other conceivable violation under [the previous version of] rule 1.21 and 1.21.1 that we know of," Van Inwegen replied to Gamse. "[We] are totally confused as to what rules we violated."
Rule 1.21.1 had stated that sororities and fraternities were permitted to put up "flame resistant artificial trees" and exterior lights which are in "good taste." The revised version says these groups "are permitted to request installation of exterior holiday decorations" as long as a plan (and the decorations) are provided and then approved by Emory Housing Operations and Office of Sorority and Fraternity Life.
Emory did not respond to either Campus Reform or Fox News regarding confusion over the rules and possible discipline against ATO.
MORE: The campus social justice warrior's guide to celebrating Christmas
IMAGE: HelloSSTK / Shutterstock.com
Like The College Fix on Facebook / Follow us on Twitter