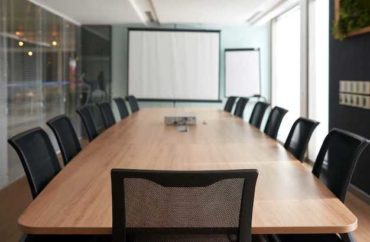 A journalist guides us through a ghostly humanities conference
On the first day – "arguably the most important, and most heavily trafficked" – of the Modern Language Association's annual national conference for English and literature scholars – Washington Post reporter Jacob Brogan sets the scene:
At 12:55 p.m. on a Thursday in early January, the double doors of Salon K at the Marriott Marquis in downtown Washington hung open like an unwanted hug. The space within had been optimistically set up for an audience of maybe three dozen: six rows of chairs in neat ranks with an aisle down the middle, facing a black-draped table with space for four participants.

The panel in progress — "Lessing and the Intersectionality of Gender and Cultural Diversity" — had another 20 minutes to go, just enough time for questions. But no hands were raised, and no one was holding forth. In fact, the room was free of any sign of life. The seats were empty, the table uncluttered by notes or napkins. Even the hotel corridor outside, lined with rooms hosting other sessions, was silent.
The conference had been prepared, but hardly anyone showed up; the events shuffled on like servants at the birthday party of a rich but friendless child.
Brogan notes one panel with an audience of five, another with three, a third with "maybe 10." A fellow participant noted that there was no line at Starbucks — "which, for MLA, is unheard of."
A convention room that in former years "might have been a raucous arena, a sprawling bazaar" was this year "a collection of maybe 15 booths in an area fenced in with blue curtains to make us forget that we were in a hall large enough to host a boat show."
The 2022 conference was a shadow of what the MLA conference had been in happier days:
For decades, the conference was the ground zero of professional life for literature scholars. Thousands descended on it to engage with the latest research and catch wind of the newest trends while listening to papers ranging from the abstruse…to the intriguingly sexy … It was here, too, that rising scholars would meet with acquisition editors from the various university presses, pitching them on books that could make them into stars — or at least earn them tenure.
COVID was partially to blame for the falling off, but not entirely.
"MLA, like countless other conferences, went virtual in 2021 — a concession to the ongoing realities of the pandemic and the just-beginning rollout of the vaccines," Brogan wrote.
However, "this year was supposed to be different — an online and in-person hybrid, mostly in person. The coronavirus's delta variant did little to change those plans, but then the omicron wave arrived, shifting more and more panels online."
"In theory, the conference was still happening, but it wasn't clear whether anyone would be in attendance, or what they'd be doing while there."
Perhaps, Brogan suggested, participating in the conference of "a dying profession" was not worth the slightest risk of falling ill.  Moreover, attendance has been dropping for decades.
"In 1968," Brogan wrote, "the conference's attendance swelled to 11,750. By 2020, only 4,395 attendees showed up."
An empty MLA conference as the graveyard of a dying job market
Besides serving as a hub for networking and the sharing of ideas, the MLA was where young scholars on the make once interviewed for their first jobs as professors. 
"When you applied for academic jobs," Brogan wrote, "the MLA was where you would have your first round of interviews — assuming you were lucky enough to have caught a department's attention."
"The event also referred, in some larger sense, to the very idea that you could make a career out of writing about reading. That you could maybe get a job there was of a piece with the miraculous fact that such jobs existed at all."
And such jobs, which have been disappearing for decades, now scarcely exist.
"Tenure track openings have evaporated, leaving many casting about for underpaid adjunct employment," Brogan wrote.
"That process has been underway for years, but it has only accelerated in the past decade. Hiring last peaked in 2007-2008, when the MLA's jobs report recorded 3,506 openings across English and other languages. By 2019-2020, the most recent year for which data is available, that number had fallen to 1,411 — only half of which were for tenured or tenure track positions — even as graduate programs continued to award new PhDs."
According to the report Doctorate Recipients from U.S. Universities: 2020 from National Center for Science and Engineering Statistics (NCSES), 4,052 doctorates were awarded in 2020 in foreign languages and literature, letters, and "other humanities and arts," combined.
 Assuming the numbers did not shrink again from 2020-2021, that means that as of two years ago, there was approximately one job opening for every 2.9 scholars – who have in most cases been trained for academia and nothing else. 
No wonder professors like Thomas Benton and Bret Devereaux penned essays specifically urging undergraduates not to pursue doctoral degrees in the humanities. Benton's follow-up column in The Chronicle of Higher Education, in January 2009, was titled "Graduate School in the Humanities: Just Don't Go."
So it's hardly surprising that the literature scholars stayed home from the MLA in 2022. 
As Brogan put it, "humanities scholars live with the fact of crisis, constantly aware that their profession is endangered…To make a career out of the humanities is, in other words, to accept emergency as the norm."

In explaining the emergency, Brogan cited shrinking department budgets, the overuse and exploitation of part-time adjunct faculty, and declining enrollment.
He's not wrong: 2019, the Washington Post reported that English majors were down 25.5 percent since the fall of 2008, "the biggest drop for any major tracked by the center in its annual data."
But perhaps the decline in the humanities, so visible at the empty MLA conference, can also be attributed to a loss of redeeming purpose. In the teaching of literature, politics and postmodernism have taken center stage, with apparently unpopular results.
At Spectator World, Micah Mattix, in a post on Brogan's article, suggested this deeper malady:
Brogan blames government cuts to humanities programs and our culture's preoccupation with utility for humanities' woes (the number of students majoring in English has been in steady decline for years) and, in turn, for the declining interest in the MLA. These are certainly contributing factors, but he fails to note the primary problem: the abandonment of the study of literature at the university, which at many schools has become a sub-discipline of politics. What was the title of that talk that no one attended? "Lessing and the Intersectionality of Gender and Cultural Diversity"? Yeah, I can't believe students aren't flocking to English departments to fork over $40,000 a year for stuff like this.
If scholars want life to return to the MLA, they must win their students back — and that may mean overcoming the fad for "relevance," and offering something lasting.
MORE: Woke scholarship harms the humanities. Love of beauty can save them. 
IMAGE: Freepic.com
Like The College Fix on Facebook / Follow us on Twitter