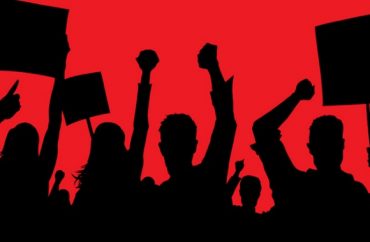 Activists rail against 'hate speech,' attempt to censor speaker
A group of student activists at the University of New Hampshire recently protested a free speech event on that
campus, attempting to block attendees from the event and trying to censor the speaker by way of extended shouting.
Linking arms and holding a banner that declared "Enough is enough," activists came out in force against the speaker, David Rubin, host of the talk show "The Rubin Report," who was there as an invited guest of the local
Turning Point USA chapter, as reported by The New Hampshire.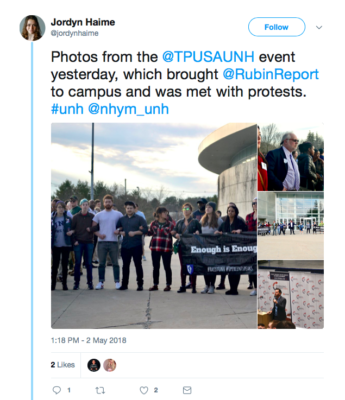 The protesters, "mostly students of color and allies who came to show their dissatisfaction with the event," according to The Hampshire, "formed a barricade" in front of the event "with the intent of blocking spectators."
The event was attended by around 200 people. Rubin, a commentator who characterizes himself as a classical liberal, was there to discuss "social justice, cultural appropriation and free speech," The Hampshire reported.
From the report:
Amidst the discussion, sophomore political science and economics dual major Nooran Alhamdan confronted Rubin about his stance on hate speech.

"People have been spit on, and people have been threatened, and people have been told to go home to their country, even though they were born in f***ing New Jersey," Alhmandan said. "What will it take to be hate speech, and when will I actually become the victim? When I'm dead?"

Rubin responded by explaining that, "the Supreme Court has ruled that hate speech doesn't exist in that you can basically can say whatever you want, short of yelling fire in a theater or inciting direct violence on someone…and that's the price that you have to pay to live in a free society."

Audience members continued to interrupt Rubin throughout the event by playing music, shaking noisemakers, and starting chants like "solidarity against hate," "we are not the problem," and "hate speech does incite violence."

At one point, two audience members chanted "black lives matter" for several minutes. Rubin initially reacted with jokes and sarcasm, agreeing with the protestors, before eventually telling them to "shut the f*** up, you're pathetic human beings, you are what's wrong with society."
According to The Hampshire, university police "capped capacity at 200 people for safety reasons." Gabrielle Greaves, co-chair of the school's Black Student Union, approved of that measure.
"I think [the cap] was fair, especially for marginalized students being in a room full of potential white supremacists, or potential people who could say harmful things, or do harmful things," The Hampshire reported Greaves as saying.
Read The New Hampshire's report here. 
MORE: University cancels event called 'The Stifling of Free Speech on University Campuses'
Like The College Fix on Facebook / Follow us on Twitter