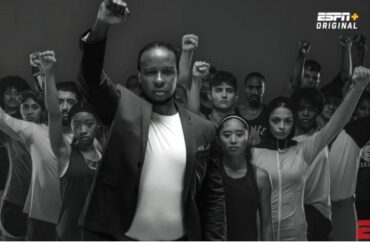 Series will 'reveal how pervasive racism is in sports'
A major TV streaming service's new original show featuring "antiracist" writer and Professor Ibram Kendi promises to expose racism in sports.
"Skin in the Game with Dr. Ibram X. Kendi" will debut on ESPN+ on Sept. 20, according to a news release from the network. The series "delves into and challenges racism in the sports world, and will reveal how pervasive racism is in sports."
Kendi, a Boston University professor who has not published an academic paper in at least four years, argued in his book "How to Be an Antiracist" that if "discrimination is creating equity, then it is antiracist," and if "discrimination is creating inequity, then it is racist."
In 2022, Netflix cut two of its planned shows based on Kendi's work, including a cartoon series that drew from his "Antiracist Baby" book.
ESPN stated in its release that Kendi will offer "analysis, athlete profiles, and robust roundtable discussions with athletes, academics and journalists, each episode dives deeply into the histories, statistics and notable moments behind the racist norms we accept today."
The first season's episodes will feature sports stars advancing social justice, analyze the burdens of being a black female athlete and explore racism in sports media.
Kendi, who popularized the term "antiracism," is the author of "Stamped from the Beginning: The Definitive History of Racist Ideas in America," as well as the New York Times bestseller "How to Be an Antiracist," among other books.
"How to Be an Antiracist" defined racism as referring to policies and ideas that create or permit any differences in outcomes of racial groups.
"A racist policy is any measure that produces or sustains racial inequity between racial groups," Kendi wrote. "An antiracist policy is any measure that produces or sustains racial equity between racial groups."
In a keynote speech delivered at Lehigh University, Kendi "explained the concept that people are either racist or anti-racist, and that there is no middle ground; one is either actively fighting racism or perpetuating it through inaction," according to a news release.
In April of last year, he launched an "antiracist newsroom" to produce a website called The Emancipator and "reframe the national conversation on race," The College Fix reported at the time. It is a joint project of Kendi and The Boston Globe and part of the Globe's opinion section.
Kendi leads The Center for Antiracist Research at Boston University, which he founded in June 2020.
Semafor reported Thursday that the center is laying off "as many as 15 to 20 staff members."
"A person familiar with the situation" told the news outlet that "the money that has been used to employ the staff members will be redirected to provide funding to visiting scholars who are already employed."
A 2022 article published by consulting giant McKinsey & Company on diversity, equity and inclusion distinguishes "equality" from "equity," Kendi's goal.
"While equality assumes that all people should be treated the same, equity takes into consideration a person's unique circumstances, adjusting treatment accordingly so that the end result is equal," according to McKinsey.
MORE: Ibram Kendi denounces black linguist for defending standardized tests
IMAGE: ESPN Marketing/YouTube
Like The College Fix on Facebook / Follow us on Twitter