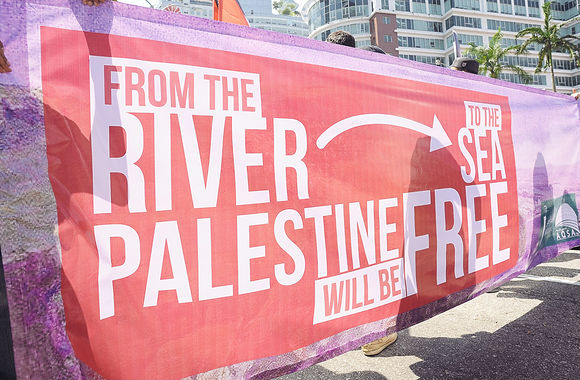 Retract your 'racist, Islamophobic and colonialist statement'
San Francisco State University has a troubled history with its Jewish students, several of whom sued the public university last year alleging it facilitated decades of harassment against them.
Campus police didn't intervene when anti-Israel activists chanted "intifada" and shouted down Jerusalem Mayor Nir Barkat the year before, while he was giving a campus speech on … technology.
Now in response to President Les Wong's apology to Jewish students for refusing to say last year whether "Zionists are welcome" on campus, one of the university's departments has answered for him: No, they aren't.
The Facebook page for SFSU's Arab and Muslim Ethnicities and Diasporas program, situated in the College of Ethnic Studies, shared a post by its director, Prof. Rabab Ibrahim Abdulhadi, that said campus leadership has "cater[ed] to donor pressures and the Israeli lobby":
I consider the statement below from President Wong, welcoming Zionists to campus, equating Jewishness with Zionism, and giving Hillel ownership of campus Jewishness, to be a declaration of war against Arabs, Muslims, Palestinians and all those who are committed to an indivisible sense of justice on and off campus. This includes our sisters and brothers in the Jewish community whose conscience refuses to allow Israel's colonialism, racism and occupation –the inherent character of Zionism—to speak in their name.

I am ashamed to be affiliated with SFSU administration and demand the immediate retraction of this racist, Islamophobic and colonialist statement, and the restoration of SFSU social justice mission.
MORE: Lawsuit says SFSU facilitates anti-Jewish harassment
The Feb. 23 post was flagged by the Jewish student group AMCHA Initiative in an email blast Wednesday, accompanied by a letter to California State University Chancellor Timothy White and trustees demanding an investigation of the AMED program at SFSU:
[T]he message clearly targeted Jewish students at SFSU for vilification and discrimination, and could be read by many as a frightening incitement to violence. …

By afternoon, Professor Abdulhadi's posting was shared by the official Facebook page of AMED, where it is still visible. That same day, it was also posted on the Facebook page of GUPS, a group for which Professor Abdulhadi serves as faculty advisor. Later in the afternoon, the message "Zionists are not welcome here" was chalked in huge letters on a campus walkway, with similar messages chalked and posted in numerous other places across campus. In addition, in a posting on her personal Facebook page a few days later, Prof. Abdulhadi further clarified her position, stating, "Zionists are NOT welcomed on our campus."
The posting of Abdulhadi's statement on a page for "an academic unit" at SFSU has given it "both academic and institutional legitimacy," as well as violated "Jewish students' inalienble rights to freedom of expression and full participation in campus life," according to the letter.
It was signed by 60 "Jewish, Christian, education, and civil rights organizations," including AMCHA, Jewish advocacy group StandWithUs, the American Council of Trustees and Alumni and the Simon Wiesenthal Center, as well as several Jewish campus groups.
MORE: SFSU lets anti-Israel activists shout down Jerusalem mayor
The latest set of dueling inflammatory statements came in response to President Wong's public apology to the Hillel student community a month ago, which followed his meeting with Hillel members:
The last couple of years have been difficult for our Jewish students, faculty, staff and community. As a University president, I've become especially sensitive to the content, context and responsibility of all my comments. …

My comments about Zionists and whether or not they are welcomed at San Francisco State University caused a lot of anguish and deeply hurt feelings.  I am responsible for those words and, after study and reflection, I have come to understand how flawed my comments were.

Thus, I want to sincerely apologize for the hurt feelings and anguish my words have caused.  Let me be clear: Zionists are welcome on our campus.
Jewish student leaders weren't pacified by their meeting with Wong: SF Hillel wrote that he appeared "unprepared for the conversation you initiated," and he "apparently did not prepare any plan" for mitigating the "undisputed discrimination" Jewish students have faced.
They also called on him to acknowledge that Wong had previously "congratulated student leaders who glorified and threatened violence against Israeli and Jewish students" (below).
MORE: Wong previously praised students who shouted down Jerusalem mayor
Wong's February apology took months to develop. He was asked point blank by The Jewish News of Northern California last May "whether Zionists are welcome on his campus."
He said he "can't get close to" making such a "categorical" statement: "Am I comfortable opening up the gates to everyone? Gosh, of course not. I'm not the kind of guy who gets into absolutes like that."
Read Prof. Abdulhadi's post on the AMED Facebook page, President Wong's apology and Hillel's response, as well as The Jewish News 2017 feature on SFSU's Jewish problems.
MORE: SFSU students go on hunger strike to protest ethnic studies cuts
IMAGE: Khairul Effendi/Shutterstock
Like The College Fix on Facebook / Follow us on Twitter