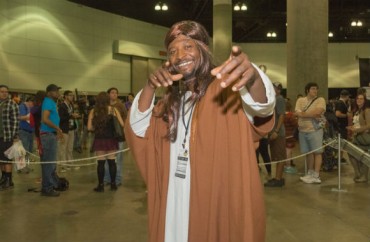 ANALYSIS
An evangelical campus ministry best known for being forced to let non-Christians run for leadership positions has joined the ranks of the PC police.
A flow chart-style poster by InterVarsity Christian Fellowship's fraternity and sorority arm, titled "So you're having a theme party," made the rounds among Greek-life groups ahead of last weekend's Halloween festivities.
It joins the ranks of secular cultural policing of Halloween costumes, including a student-led University of Chicago campaign that was later tied to a hate-crime hoax.
Greek InterVarsity's poster got high-profile visibility from the North-American Interfraternity Conference (NIC) last month.
In a post on how to avoid cultural appropriation on Halloween, a NIC official cited the flow chart to illustrate how Greek leaders can ensure their parties and costumes create a welcoming environment.
RELATED: Racially charged hacking incident was just a hoax to push diversity agenda
The poster also showed up on the State University of New York-Geneseo's "Show Your True Face" Web page, which offers posters that tell students how to "avoid negative stereotyping & hurtful messages."
SUNY-Geneseo's version includes its own branding but gives "special thanks to Greek Intervarsity." The university didn't respond to College Fix queries on how it found the poster or whether it asked for permission to rebrand it.
Greek InterVarsity actually created the flow chart last year "not in response to a specific event, but in response to the need we saw to help students understand how to make better decisions in these situations," a spokeswoman for the group told The Fix in an emailed statement.
Don't offend people or you violate the gospel
Indeed, the poster includes a Greek InterVarsity Web address for a 2014 post titled "What's wrong with the party theme?"
Michelle French, a Greek InterVarsity staffer at the University of Cincinnati, explains that offensive party themes destroy "trust and relationship," "disrespect what other people value," and caricature "ethnicities and cultures."
Throwing a party where attendees wear outfits associated with one culture is like French people referring to "all American food as McDonald's," wrote French, who studied abroad in France.
That's not the only InterVarsity post on the subject. The full organization, not its Greek arm, published a post on the eve of Halloween last year by a student member of its Emerging Scholars Network of budding intellectuals.
Katelin Hansen, who graduated from Ohio State University this spring, wrote that ethnic and cultural costumes should not be taken lightly.
"When we claim that it's all 'good harmless fun,' we reveal our privilege of never having to face the consequences of such stereotypes in our own lives," Hansen wrote. "We reveal the power we hold to dictate who defines 'harmless' and 'fun.' We reveal our harmful tendency to imagine fantasy worlds for real cultures while ignoring the historical baggage that makes us feel uncomfortable."
Another Greek InterVarsity staffer, Paula Frances Price at the University of Georgia, wrote a post two weeks ago framed as an FAQ about "culture vs. costume" on Halloween. It suggests that InterVarsity's politically correct advice is the heart of the Christian gospel.
"Pursuing understanding and reconciliation across cultural and racial lines is a crucial way that we love others and therefore, love God," Price wrote. "If we care about loving God and loving others, mischaracterizing cultures through costume or engaging in thoughtless stereotypes … belittles the richness of God's people" and creates "disunity and division."
Stop trying to satisfy 'basement-dwelling keyboard warrior' types

Not all Greek life participants see the issue the same as Greek InterVarsity and NIC.
Popular fraternity news and opinion site Total Frat Move, which was criticized in the NIC Halloween post for perpetuating allegedly offensive stereotypes, ridiculed the Halloween guidelines as well as the whole notion of cultural appropriation.
"To toss out incredibly general descriptive terms such as 'funny, ironic, and trendy' as costumes you should avoid [as NIC did] is taking this ridiculousness to a level of sensitivity that is completely unnecessary for the vast majority of the population," TFM writer Bogey Wells wrote.
"According to the NIC, your creativity should only be shown as long as a basement-dwelling, keyboard warrior won't contact nationals and bitch," Wells wrote, referring to those who complain to fraternities' national organizations in a bid to get their chapters punished.
Talk show host and liberal provocateur Bill Maher also called on "politically correct liberals to stop ruining Halloween" on his HBO program Friday.
Posters at other universities aim to guide students on what they should and should not wear for Halloween as well.

The radical Hispanic group MEChA at Northwestern University shares its "Is Your Costume Racist?" poster each year, while Duke University's Center for Multicultural Affairs created a whole album of costumes that supposedly offend nonwhite students, using the hashtag #OurCulturesAreNotCostumes.
Like The College Fix on Facebook / Follow us on Twitter
IMAGE: betto rodrigues/Shutterstock, Greek InterVarsity