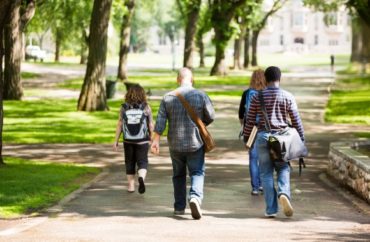 Scholars argue both sides of an argument should be provided a platform on campuses
Ilana Redstone Akresh, an associate professor of sociology at the University of Illinois at Urbana-Champaign, is scheduled to teach a course this spring semester called: "Bigots and Snowflakes: Living in a World Where Everyone Else Is Wrong."
The class will involve readings from both sides of the political spectrum to give students perspective on multiple viewpoints. "The goal of the course is to introduce students to a way of thinking that teaches the importance of a dispassionate examination of multiple perspectives and of thinking critically in all aspects of their education and beyond," its syllabus states.
Akresh has called it a unique course that tackles the social pressure to not express certain opinions.
"There are certain norms in place that if you have those questions, then you're not supposed to say that, because then you are either justifying it or are sexist," Akresh said in a recent interview with the Daily Illini campus newspaper.
"We're pulling back the curtain a little bit to say that we need to have an honest discussion about it and not to brand people to see what else can be a part of it."
Akresh is not alone in her concern that open and free intellectual debate and academic inquiry is stagnating at institutions designed to allow such conversations to flourish.
She recently co-wrote a column in The Chronicle of Higher Education along with UCLA engineering and public policy Professor John Villasenor about the problem. Headlined "3 Ways That Colleges Suppress a Diversity of Viewpoints," the two scholars pointed out that even as colleges add more diversity programs, a diversity of viewpoints is at an all time low.
"As colleges adopt an ever-growing array of diversity programs, one form is still in woefully short supply, with little effort being directed toward a remedy: diversity of viewpoints. The lack of an array of freely voiced perspectives on social and political issues is buttressed by a strict set of largely unwritten rules constraining the opinions that can be expressed on campuses, the research that can be performed, the discussions that can be held," the article stated.
"The problem, of course, is not the very existence of social media, but rather that when pressured by social-media mobs (or in-person mobs convened by social media), colleges and academic journals often fail to practice what they preach: Academic freedom exists and needs protection precisely because there are opinions that can both generate offense and have value. This does not mean that all offensive ideas have value. But it does mean that the value of an idea cannot be judged solely on the basis of whether it offends," it added.
The article took on one sacrosanct belief among left-leaning scholars "that disparate outcomes across groups can be due only to discrimination." When broken down, this belief is essentially the idea that if a person is not good at something it is because of their cultural background and not because of that individual person's preferences or abilities.
A consequence of this school of thought is that it has become "perilous to praise the concept of meritocracy," Akresh and Villasenor wrote.
Several years ago, the University of California system published a list of microaggressions. One such microaggression was: "I think the most qualified person should get the job."
In an interview with The College Fix, Professor Villasenor said "meritocracy is simply a term used to describe a decision based on merit. Sometimes it is a fraught term."
Another key point in the article is the emphasis on absolute good and absolute bad.
"When the world is divided this way, praise and condemnation are mutually exclusive, with no room to acknowledge the possibility that sometimes both are merited," it stated.
Villasenor, in his interview, acknowledged how hard it is to take a different stance on issues, citing the social pressures of adhering to the prominent viewpoints on and around a campus.
When asked if he was afraid of backlash due to his critical stance on the suppression of ideas, similar to the way former UCLA lecturer Keith Fink claims he was fired by UCLA administration for espousing conservative views in the classroom, Villasenor responded: "I'm not saying anything radical. I think that both sides of an argument can be valid and both should be heard. I don't see how that could be a problem."
He cited Akresh's class as an example of a positive development.
"More classes like Professor Akresh's are great, but I think there should be a diversity of viewpoints in all classes, not only classes specifically about viewpoint diversity," he said. "We should read materials from both sides."
MORE: Heterodox Academy combats lack of viewpoint diversity in higher ed
IMAGE: Tyler Olson / Shutterstock
Like The College Fix on Facebook / Follow us on Twitter