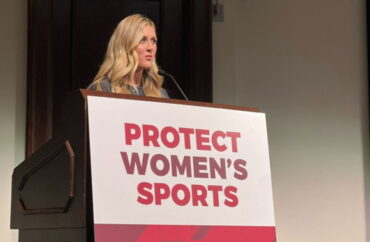 'Eventbrite is the epitome of organizations taking a stand against women and our basic human rights'
Pro-Hamas events are allowed on Eventbrite's platform, but organizers of an event featuring women's rights activist Riley Gaines are not as fortunate.
The Big Tech platform, which has a documented history of removing events critical of transgenderism, informed Gaines that she could not use the platform to manage tickets for an upcoming speech at the University of California Davis.
"We have determined that your event is not permitted on the Eventbrite marketplace as it violates our Community Guidelines and Terms of Service, with which all users agree to comply," the company wrote.
It said events that "discriminate against, harass, disparage, threaten, incite violence against, or otherwise target individuals or groups based on their actual or perceived race, ethnicity, religion, national origin, immigration status, gender identity, sexual orientation, veteran status, age, or disability," are not allowed.
"As a result, your event has been unpublished," the company informed Gaines.
Yet, as OutKick reported, "what is allowed, and apparently not hateful, at Eventbrite is the advertising of rallies that spread the messaging from the terrorist group Hamas."
This includes a panel on the "Palestinian resistance fighters," which will discuss "the historical context that led to the current moment, the dynamics currently at play, and the possibilities for building international solidarity for Palestinian liberation."
I love all the people in my comments saying they've deleted their Eventbrite account. Give 'em the Bud Light treatment

🚨Newsflash: being a woman and advocating for such isn't a hate crime.🚨 pic.twitter.com/EQmh2JbcF1

— Riley Gaines (@Riley_Gaines_) October 26, 2023
Gaines has a show on OutKick.
She told the center-right sports publication:
By allowing pro-terrorist and anti-Semitic groups to keep their scheduled events on the Eventbrite platform, but canceling events discussing the importance of ensuring the safety, fairness, and equal opportunities for women, Eventbrite has sent a clear message to all. Eventbrite is the epitome of organizations taking a stand against women and our basic human rights.
Chairman Kevin Hartz disputed the allegations the platform is pro-Hamas in a vulgar response to Outkick.
"I am the Co-Founder and Chairman of Eventbrite and to accuse Eventbrite of being Pro-Hamas is egregious and moronic," Hartz wrote on X. "How could you make an unsubstantiated slander that I support these genocidal maniacs? Please go f*** yourself!"
MORE: Nebraska governor bars men from women's locker rooms
IMAGE: IWF/Twitter
Like The College Fix on Facebook / Follow us on Twitter