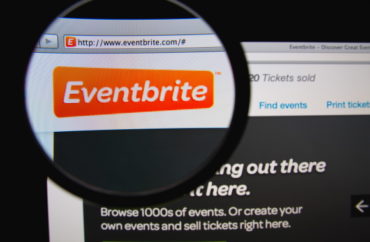 Eventbrite canceled ticketing to at least three college conservative events since 2022
Popular ticketing platform Eventbrite has refused to provide ticketing services for multiple conservative events in the past year, citing purported violations of its policies.
In late February, the website removed from its page for a Matt Walsh event on transgenderism sponsored by Young America's Foundation at Stanford University. Organizers were forced to set up an alternative event page just before Walsh's appearance.
Not only did Eventbrite remove the page, "[h]undreds of registered attendees were surprised to receive emails from the company informing them that their tickets had been canceled," YAF wrote in a Feb. 27 news release.
"Tickets in this order have been voided and will no longer grant entry," according to an Eventbrite email sent to attendees, a screenshot of which YAF posted to its website (pictured).
Eventbrite canceled ticketing to at least two other college conservative events in 2022.
In 2022, Eventbrite canceled ticketing for a November Matt Walsh event at the University of California, Berkeley, YAF reported.
"They've also taken down pages advertising independent screenings of his documentary by conservative campus groups and a community parent association," it added.
Before this, the platform similarly refused to ticket for a Sept. 13 Walsh event on transgenderism at Western Kentucky University.
It's not just happening to college conservatives
Off campus, it canceled ticketing and payments for a June 2022 screening of conservative author Dinesh D'Souza's documentary "2,000 Mules" sponsored by the Louisiana GOP at its annual convention, Lafayette Daily Advertiser reported that month.
The platform also scrapped a 2022 Memorial Day event with conservative group American Constitutional Rights Union, honoring veterans and featuring former Republican Congressman and Texas GOP chair Allen West.
In January of this year, it canceled ticketing for a conservative documentary on the Jan. 6 Capitol riots, OANN reported.
Earlier this month, it canceled ticketing for a "March for our Military" event in Texas.
"It is still a mystery as to why Eventbrite canceled the event. One possible conclusion is that Eventbrite management may be liberal and not believe in our treasured Second Amendment rights," the group stated on its website.
The Fix messaged Eventbrite three times in early March to ask to speak to a media representative regarding ticketing cancellations. Eventbrite has not replied.
Eventbrite "is a global self-service ticketing platform" with a mission "to bring the world together through live experiences," according to its "About Us" page. The company claims to have facilitated 5.4 million events across almost 189 countries through the issuance of 291 million tickets in 2021.
Eventbrite provided vague rationales for its cancelations 
Eventbrite has provided various reasons for its cancelation decisions, some vaguer than others.
For the March 1 Walsh event at Stanford, the ticketing platform stated the event "does actually violate our Terms of Service," apparently without providing additional clarification, The Fix reported. The event was part of Walsh's tour for his "What Is a Woman?" documentary, produced by The Daily Wire.
Eventbrite canceled Walsh's November event, a part of his "What Is a Woman?" Tour, with unknown justification.
Eventbrite canceled ticketing for the Sept. 13 Walsh event at Western Kentucky University, "citing a policy that forbids hate and harassment" as justification.
When canceling ticketing for the D'Souza screening of "2,000 Mules," a documentary alleging voter fraud in the 2020 U.S. presidential election, Eventbrite cited its policy against spreading "potentially harmful misinformation," according to the Daily Caller.
For West's Memorial Day event, Eventbrite "stopp[ed] all ticket sales, saying that the event honoring the fallen does not comply with Eventbrite's 'Community Guidelines,'" according to the ACRU website.
"The particular issue appeared to be a component of the event, which would offer free ammunition and a new firearm to one of America's heroes," according to the ACRU. "It appears to be lost on Eventbrite that the veterans and military being honored actually used weapons to defend our freedom."
Eventbrite's "Community Guidelines" page lists several types of banned content that could lead to the cancelation of ticketing for events: bullying, misinformation and hateful content.
Under the heading of "bullying," Eventbrite bans "abusive or threatening treatment." Eventbrite's prohibition on misinformation bans "misleading content" related to "an individual or specific group of people."
Eventbrite's ban on "hateful content" prohibits "hate speech, hateful ideologies, and hateful activities that incite, encourage or engage in violence, intimidation, disparagement, harassment, or threats targeting an individual or group based on their actual or perceived race, ethnicity, religion, national origin, immigration status, gender identity, sexual orientation, disability, age, or veteran status."
The Fix asked Eventbrite in one of its messages to elaborate on how the canceled college events specifically violated its policy on bullying, misinformation, or hateful content. The Fix has not received a response.
MORE: UW-Madison veteran's memorial, statues, other campus fixtures defaced ahead of 'What is a Woman' Walsh talk
IMAGE: Eventbrite
Like The College Fix on Facebook / Follow us on Twitter