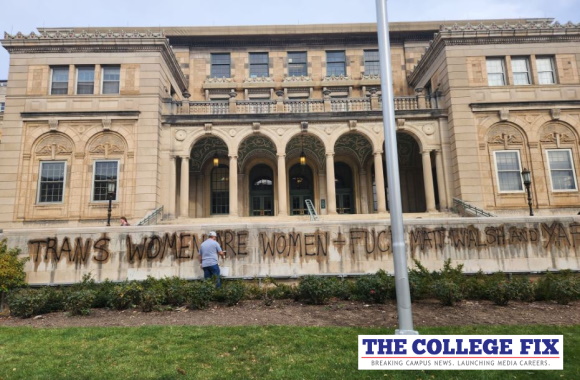 Cleaning crews scrubbed the face of the University of Wisconsin's Memorial Union on Monday morning to remove a rash of profane graffiti that had surfaced overnight.
The graffiti was directed at conservative speaker Matt Walsh, who delivered a talk to a sold-out address at Memorial Union on Monday night about his controversial documentary "What is a Woman?" that is critical of transgender ideologies and gender transition surgeries on children.
The graffiti, which was peppered across the school's Alumni Park that flanks Lake Mendota, also included spray paint with the message "ACAB," which stands for all cops are bastards, as well as phallic symbols.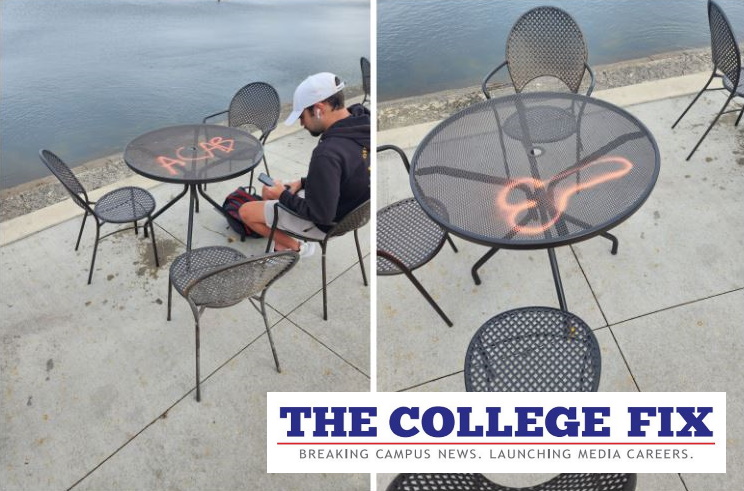 The vandals also took aim at the school's Young America's Foundation chapter, which hosted Walsh, insulting the group with the vulgar graffiti.
"Trans women are women – fuck Matt Walsh and YAF," read a line of spray-painted text on the outward face of the union.
The Memorial Union is billed as "one of the most beloved and historic destinations on UW-Madison's campus," according to the university's website. The vandals spray painted over the words that include "erected and dedicated to the men and women of the University of Wisconsin who served in our country."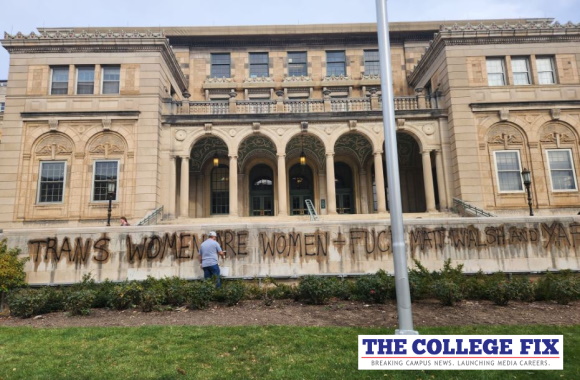 Other graffiti scattered throughout the surrounding Alumni Park grounds called Walsh a Nazi and a pedophile.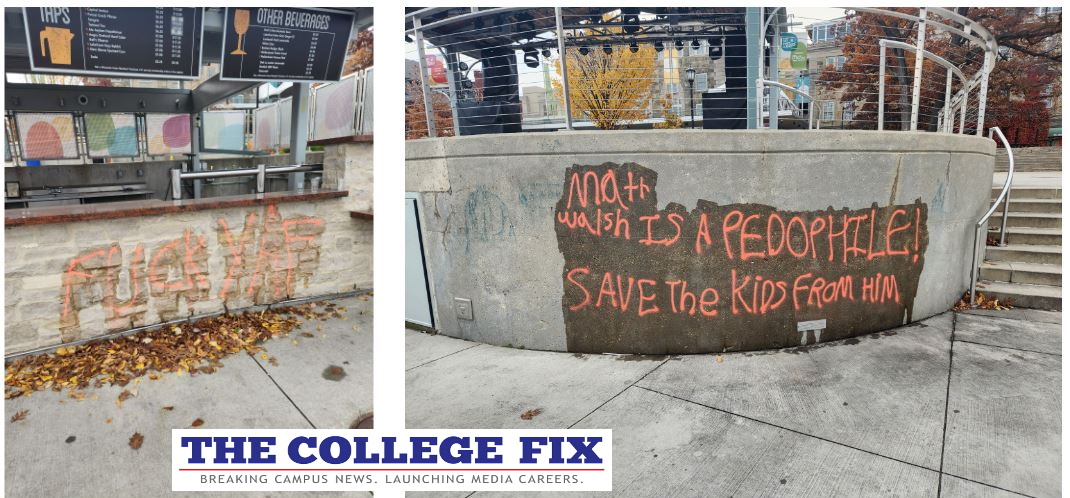 Two statues of Bucky Badger, the university's mascot, were also covered head to toe in spray-painted graffiti, including the word "poop" on Bucky's face. Other terms include "f*** off, "f*** YAF," and other phallic imagery.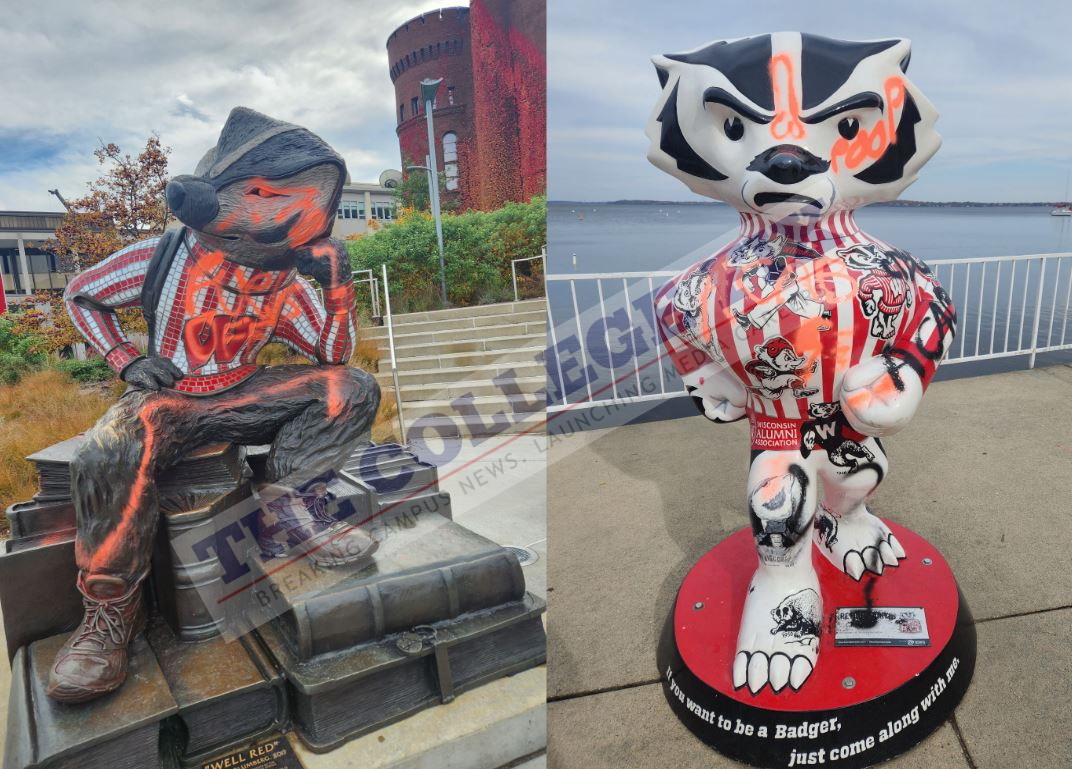 University spokesperson John Lucas said early Monday afternoon that administrators are aware of the situation and are making efforts to clean the graffiti.
"UW-Madison is aware of an extensive amount of graffiti that occurred at Memorial Union and Alumni Park in the early morning hours of Oct. 24. The university is deeply committed to the right to free speech," Lucas said in an email to The College Fix.
"However, criminal damage to the university's buildings and spaces– for any reason or purpose– is unacceptable and will not be tolerated," Lucas said. "All surfaces will be cleaned and restored as quickly as possible. UWPD is currently investigating the incident. The university will also take appropriate steps under applicable criminal statutes and campus policies to hold responsible individuals accountable."
Republican U.S. Sen. Ron Johnson, in response to the vandalism, tweeted Monday that it "is shameful to see that intimidation and intolerance are commonplace as universities have embraced extreme leftist ideology."
Freedom of speech is one of the most fundamental rights in America.

It is shameful to see that intimidation and intolerance are commonplace as universities have embraced extreme leftist ideology. https://t.co/aZfAIqOVXG

— Senator Ron Johnson (@SenRonJohnson) October 24, 2022
YAF's attorney Victor Bernson sent a letter to UW-Madison on Monday demanding an investigation into the "acts of extreme vandalism perpetrated on campus." Bernson called it "horrendous defacement of public property and obvious targeting of YAF students."
YAF has issued a demand letter calling for an investigation into teaching assistant, Ms. Jesikah Leeper's destruction of flyers posted in authorized areas advertising upcoming speaking events. pic.twitter.com/vOxkaViuy0

— YAF (@yaf) October 24, 2022
Prior to the vandalism, UW Dean of Students Christina Olstad and Associate Vice Chancellor of Student Affairs Gabe Javier shared a message of support on UW-Madison social media. While not addressing Walsh by name, the message acknowledges "a speaker…whose viewpoints we believe are harmful to the trans community."
Campus unrest about @MattWalshBlog is ramping up. Instead of calming emotions over an event they both approved and are providing support for, @UWMadison chooses to vilify our speaker on social media & pander to the mob.

Predictably inconsistent & outright shameful. pic.twitter.com/IPHTXe0a6X

— Wisconsin YAF (@WisconsinYAF) October 24, 2022
The message ends by promising "we will continue to do our part to make this campus more welcoming and inclusive regardless of what speakers may counter this value."
Student groups such as Madison Abortion and Reproductive Rights Coalition and the Madison Socialist Alternative organized a protest to take place prior to Walsh's speech to support the UW Madison transgender community.
Wisconsin YAF called the vandalism an immature overreaction in an email to The College Fix.
"Campus leftists can't handle the fact that we're bringing a speaker to campus whose views differ from theirs because they're used to being coddled by the university. Today, we witnessed an absolutely inexplicable act of vandalism on our most beloved campus building. The building in question, Memorial Union, is dedicated to the brave men and women who valiantly and selflessly served and defended our nation," according to the statement, signed by Wisconsin YAF.
"Instead of calming the intense emotions of campus leftists, the university emboldened their rage by lamenting the impact of this event."
"Despite the immaturity and inconsistency of the university and the absolutely reprehensible leftists, we're excited to put on a great event tonight and thank YAF and Matt Walsh for all their help and support."
READ MORE: Coverage of the protest against Matt Walsh at the University of Wisconsin Madison
IMAGES: Jackson Walker / For The College Fix
Like The College Fix on Facebook / Follow us on Twitter