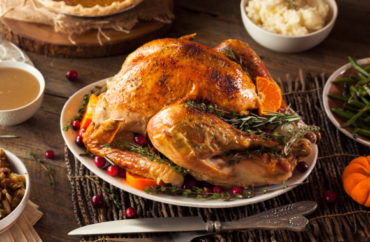 'Intentional effort to get people to start thinking of turkey as American cuisine'
Thanksgiving has been turkey day for decades, but it wasn't on the pilgrims' table, according to Elan Abrell, a food studies professor at Wesleyan University.
Abrell talked turkey on Tuesday with the The Wesleyan Connection, Wesleyan University's official news platform.
The bird enjoys great seasonal popularity despite the fact that turkey wasn't served when the Wampanoags and Pilgrims gathered for their famous feast in 1621, according to the news source.
"In fact, it's unclear what was on the menu at all," according to The Wesleyan Connection. 
However, "turkey has been inextricable from Thanksgiving" since the middle of the 20th century, Abrell told The Wesleyan Connection.  
Norman Rockwell made a turkey his centerpiece in the 1943 painting Freedom From Want, and American presidents have pardoned them.
"It's a wonderful Thanksgiving tradition here at the White House," President Joe Biden said Monday, before he pardoned 2022 National Thanksgiving turkeys Chocolate and Chip. "There's a lot to say about it, but it's chilly outside, so I'm going to keep this short. Nobody likes it when their turkey gets cold."
Even more, American have gobbling up turkeys since the wild bird became a a new American symbol around 1789, when George Washington declared a one-off Thanksgiving celebration, according to The Wesleyan Connection. 
"To some extent, there was an intentional effort to get people to start thinking of turkey as American cuisine and encourage people to eat North American food to distinguish a developing culture from England, where most people wouldn't be eating turkey at the time," Abrell stated.
Turkey gobbling really got going after agriculture went industrial
Tucking into turkey took a leap around 1863, when Abraham Lincoln proclaimed an official Thanksgiving holiday.
That century, the American population grew, the agricultural sector expanded and industrialized, and farmers bred the birds "faster, cheaper, and bigger," according to the Wesleyan Connection.
Those conditions accelerated, and last year Americans consumed about 44 million turkey on Thanksgiving, according to CNN.
Despite price spikes from inflation, supply chain problems, and avian flu, Abrell stated he thinks the turkey trend will keep on trotting.
However, "you could do the more humane thing and just eat Tofurky," the professor told the student blog.
MORE:  University rolls out new major in 'Animal Studies'
IMAGE: Brent Hofacker / Shutterstock
Like The College Fix on Facebook / Follow us on Twitter