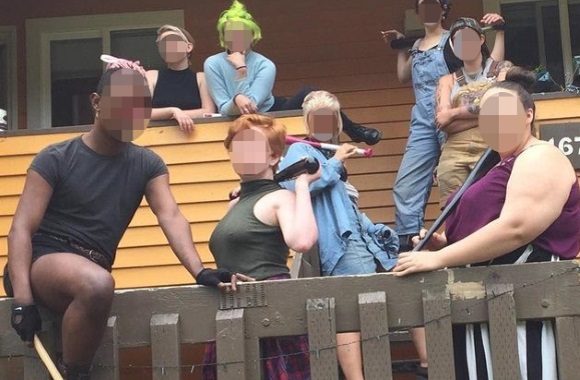 'The bats must be put away immediately' 
An official at Evergreen State College sent a memo to students Sunday asking an apparent group of campus vigilantes who have taken to patrolling the grounds armed with bats or batons to end the practice, according to an email forwarded to The College Fix. 
The email was from Vice President for Student Affairs Wendy Endress, who in her memo addressed to "colleagues" included the message sent to students Sunday by Sharon Goodman, director of Evergreen's Residential and Dining Service, or RAD, asking the "community patrol" to lay down its weapons.
The Olympia, Wash.-based campus is closed today due to an unspecified "external threat"; it was also closed for nearly two days last week due to a "direct threat to campus safety."
Now comes word that students apparently took their safety into their own hands. The June 4 memo from Goodman to students states in part:
Dear RAD Students,

We are aware of a small group of students coordinating a community patrol of housing and campus. We acknowledge and understand the fear and concerns that are motivating these actions. We also understand that these students are seeking to provide an alternative source of safety from external entities as well as those community members who they distrust.

Community patrols can be a useful tool for helping people to feel safe, however the use of bats or similar instruments is not productive. Some members of this group have been observed carrying batons and/or bats. Carrying bats is causing many to feel unsafe and intimidated. The bats must be put away immediately in order to protect all involved. Non-students participating in this activity are advised to leave campus.
Goodman's note goes on to invite students to workshops Monday with "trained restorative justice facilitators" to help them finish out their final week of school.
Goodman and Endress did not respond to several requests by The College Fix seeking comment Monday to confirm their emails or comment further on the matter. An email and phone call to campus spokesman Zach Powers on Monday afternoon was also not immediately addressed.
Endress, in her June 5 email to colleagues, asked them to counsel students to "embrace choices that de-escalates." She goes on to cite an email she received from an Evergreen professor who is concerned for one of her pupils.
The Evergreen student had told the professor that "Because I had shown some criticism to the protest that was occurring on campus in earlier weeks I have become targeted and harassed by a wide number of students on campus. Recently there have been a number of students who patrol lower campus with weapons like baseball bats and tasers who claim to be making the campus safer but in reality are making campus more hostile."
The latest developments come at a school where students in early May screamed at and harassed a white professor for not leaving campus on an anti-white "Day of Absence." Shortly after that, the professor, Bret Weinstein, was forced to flee campus and hold his class in a local park after police told him it's not safe for him to be on campus. More recently some faculty have demanded Weinstein be punished for allegedly provoking a "white supremacist backlash" against the school.
MORE: State legislators sponsor bills to defund Evergreen State, turn it into private college
Like The College Fix on Facebook / Follow us on Twitter
IMAGE: Digitally altered by The College Fix