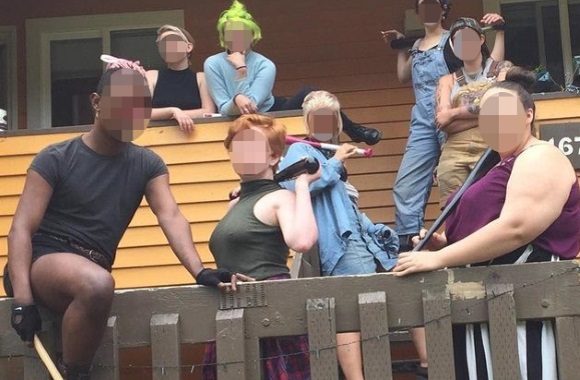 UPDATED
It appears Evergreen State College is taking steps to make sure a campus uproar like the one that took place last spring does not occur again.
For one, some students involved in the upheaval have been given some sort of sanction, according to a Sept. 30 report in The Olympian.
About 180 students were named in incident reports during the spring and summer quarters, college spokeswoman Sandra Kaiser told the newspaper.
"Of those 180 students, approximately 80 were found responsible for their actions," Kaiser said. "They received sanctions ranging from formal warnings, community service and probation, to suspension."
The punishments were meted out during the spring and summertime, The Olympian reported. Kaiser said the cases weren't solely related to protests, and would not specify to the newspaper how many student protesters received sanctions.
And recently the public university also rolled out a "Free Speech Guide" that defends the notion that unpopular speech is protected by the First Amendment.
"The First Amendment allows speech that you may find extreme or hateful. It's not unusual for people to want to silence others' speech and eliminate that which is unwelcome, disagreeable, or even deeply offensive," the guide states. "However, it is the protection of unpopular expression that lies at the core of the First Amendment, which makes it unlawful to prohibit speech based on content."
The guide goes on to warn that civil disobedience, much like what was seen on campus last spring, will be met with punishment.
"If violations of policy or state law occur at free speech activities, you should expect a response from Evergreen staff or law enforcement," it states. "Examples of policy or law violations include interfering with college operations or activities; interrupting college events and meetings; blocking persons, vehicles, sidewalks, entrances and exits; and interference with life and safety personnel, such as ambulance, police, or fire first responders."
Editor's Note: Since publication, the original article from The Olympian that this story was based on has been amended. Kaiser told the paper after it published its report that the student sanctions weren't solely related to protests, and would not specify how many student protesters received sanctions. We have updated our article to reflect this new information as well.
MORE: Evergreen State College faces $2.1M budget shortfall, cites enrollment drop, issues layoff notices
MORE: Evergreen State College settles claim with embattled professors for $500,000
Like The College Fix on Facebook / Follow us on Twitter