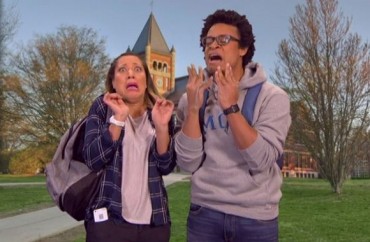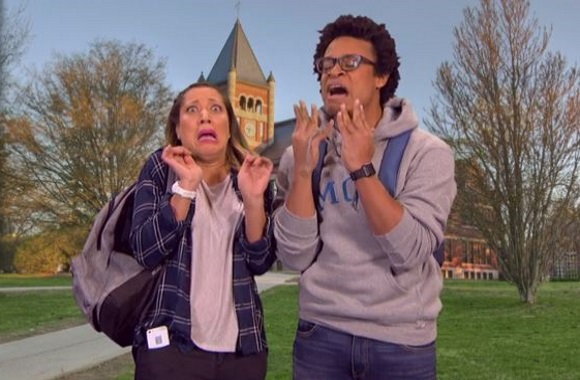 President promises to buy them gumbo
If you thought it couldn't get any more ridiculous at Evergreen State College, where a white professor has been physically threatened for refusing to leave campus on Segregation Day, you suffer from lack of imagination.
In a new video from the melee where student activists confronted and repeatedly insulted President George Bridges, one of them tells Bridges they refuse to be penalized for turning in homework late.
It takes a lot of time and effort to turn your campus into Lord of the Flies, after all.
The unidentified student starts: "All of us are students and have homework and projects and things due," to which Bridges quickly replies "I know."
She continues: "Have you sent an email out to your faculty letting them know?" He responds, sounding baffled: "No."
"What's been done about that? Because we're all here on our own time," the student concludes.
"First thing, I have not done it yet," Bridges starts, before the entitled brat interrupts him: "So they need to be told these assignments won't be done on time. And we don't need to be penalized for that."
When the hapless white male whose title indicates he presides over a state college meekly reminds the protesters "I don't know the names of all the students here" – ergo, he can't identify their professors to pass along the message – the future leaders of America yell at him: "JUST SEND IT TO ALL THE FACULTY!"
In other words, a blanket homework amnesty for the entire campus, at least if you're not white.
Bridges is mute and baffled throughout much of the video because students keep talking over each other. When he says "please," apparently apologizing for trying to respond to their random outbursts, one student yells at him "YOU PLEASE, GEORGE, YOU PLEASE!"
They really don't like it when Bridges says he needs "some privacy" because he has "claustrophobia." One student responds: "Students of color have to work in threatening environments every day. Welcome. Welcome. Get to work." Everybody snaps their fingers, because applauding is jingoistic.
Clearly she's not talking about the pampered elite crybullies who create threatening environments at Evergreen every day.
The privileged intersectionalistas even extract a gumbo promise from Bridges. He can afford their demanded "potluck": Bridges earns $300,000 a year and $50,000 deferred compensation, according to The Olympian.
The Cooper Journal, the student newspaper, opposed Bridges as a candidate for president when he was under consideration in 2015 because he didn't match the school's "radical roots."
h/t Campus Reform
Like The College Fix on Facebook / Follow us on Twitter